Comic Returns for Night of Traditional Japanese Storytelling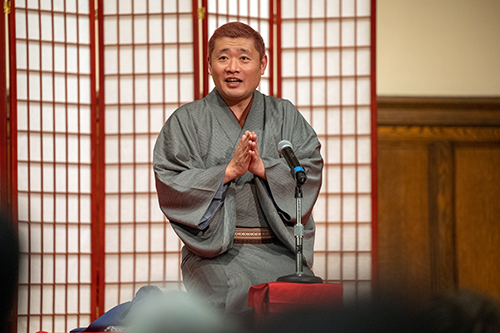 Comic Tatekawa Shinoharu '99 returned to campus on March 30, but it wasn't a typical stand-up set. As a master of rakugo, a traditional genre of Japanese comedy, Tatekawa sat down on a cushion at center stage.
His performance was part of an evening of traditional Japanese storytelling featuring performances of rakugo and rokyoku, sponsored by the Council on East Asian Studies at the MacMillan Center for International and Area Studies at Yale. In addition to Tatekawa, Irifunetei Sentatsu also performed rakugo, while Tamagawa Nanafuku and Hirosawa Mifune performed rokyoku.
Rakugo performers are solo artists who share complex comedic stories in which they play two or more characters while kneeling on a cushion, often with a folding fan or a hand towel as their only props.
In contrast, rokyoku is a form of narrative singing comparable to opera, in which the singer's dramatic tales are often accompanied by a musician who plays a three-stringed shamisen. Rokyoku is often performed in a series of "episodes," each one ending in a cliffhanger.
After graduating from Yale, Tatekawa—which is his stage name—worked in a corporate setting for three years before he decided to pursue a career in rakugo.
"I never thought that I would be a rakugo performer during my Yale days," he said. "I didn't even know what rakugo was back then. I fell in love with this genre of comedy after I returned to Japan and decided to quit my job to become an apprentice."
Following 17 years of training, Tatekawa became a "shin-uchi," or master-rank rakugo performer. He explained, "After my apprentice years, I am starting to appreciate what I learned here at Yale: to question, to challenge, to enjoy making mistakes."
At the show, he performed a comedic story about a man who plays the ultimate practical joke on his know-it-all neighbor. But first, Tatekawa reminisced about his time as an undergraduate, describing some humorous cross-cultural interactions with fellow students. "I never imagined I'd be back, twenty-four years later… in kimono… kneeling in front of everyone," he said, eliciting laughter.
After the event, he reflected on his long-overdue return. "It was deeply moving to visit my alma mater for the first time in twenty-four years," he said. "And I hope it won't be twenty-four years until I visit Yale again."
Learn more about Tatekawa Shinoharu at his official website.
Council on East Asian Studies