How to Do Feminist Organizing during a Pandemic: Report from Gender & Policy Forum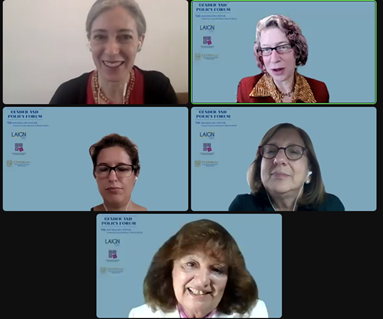 By Charlie Mayock-Bradley, Yale College '23
This past Friday, March 4, a group of scholars chatted jovially as they prepared to begin the second session of the Spring 2022 Gender and Policy Forum. The session, titled "Equality and Civil Society after COVID-19," took place on Zoom and was livestreamed to an audience of over 100 policymakers, students, and researchers from across the Americas. Speaking in both Spanish and English, the panelists had a lively discussion about the role of feminist politics during the COVID-19 pandmeic.
Claudia Valeggia, CLAIS Chair and Professor of Anthropology, kicked off the session by expressing deep gratitude to LAIGN, CLAIS, and the interpreters for working to make this series possible. As Valeggia explained, the Gender and Policy Forum has three main goals: fostering an exchange of ideas about gender between researchers and policymakers; creating a professional network of people dedicated to gender justice; and promoting leadership strategies for feminist professionals in research and policy. 
Following these opening remarks, Professor Valeggia introduced the session's moderator, Gisela Zaremberg of the Latin American Faculty of Social Sciences in Mexico. Professor Zaremberg, whose own work focuses on the role of gender in political institutions, emphasized the interactive nature of the session and invited attendees to submit questions for the panelists.
Professor Zaremberg then introduced Elisabeth Friedman and Constanza Tabbush, whose presentation focused on this central question: To what extent has the feminist movement in Latin America been capable of challenging gender inequality in the context of COVID-19? Professor Friedman began by offering a brief history of feminism's role as the backbone of anti-authoritarian movements throughout Latin America. In the context of the 21st century, Friedman said, feminism has shifted to two main arenas: state-focused advocacy and autonomous, non-governmental organizing.
Next, Dr. Tabbush analyzed the effectiveness of these organizing strategies using the Covid-19 Global Gender Response Tracker, which is a live online tracker that measures governments' responses to exacerbated gender inequality during the pandemic. Latin American countries have been especially responsive to issues of women's economic security and violence against women. Although these issues still persist, Tabbush is hopeful that Latin America as a region can take the lead on the global fight against gender inequality.
After this presentation, policymakers Celia Giay and Verónica Siman offered their own analyses. Giay emphasized the importance of the internet and social media in the success of feminist movements and called on the session's participants to take part in ongoing feminist organizing. Siman remarked on the success of feminists in breaking the taboo on discussions of abortion and reproductive rigths and expressed a similar hope for the future of Latin American politics.
Finally, Professor Zaremberg returned to lead a live Q&A session. Attendees asked a wide range of questions about gaps in policy implementation, criminalization of feminist organizing, and ways to participate in activism.
If you are interested in learning more about upcoming sessions of the Gender and Policy Forum, check out the website.