The former head of Homeland Security and the International Criminal Court's first prosecutor 
will share their expertise with Yale students in 2013 
- 
2014 as senior fellows at the Jackson 
Institute for Global Affairs.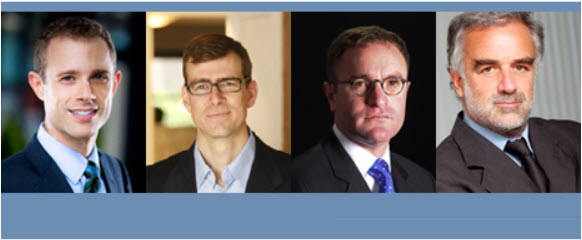 New Jackson Senior Fellows this year are 
(from left) Eric
Braverman
, Nathaniel
Keohane
, Noah 
Kroloff, and Luis Moreno 
- 
Ocampo.
Jackson Senior Fellows are leading practitioners in various fields of international affairs who 
spend a year or semester at Yale 
teaching courses and mentoring students. Four of the 11 
members for 2013 
- 
2014 are newcomers:
Eric Braverman
, CEO of the Clinton Foundation. Named as one of Fortune magazine's "40 
Most Influential Leaders in Business" in 2010,
Braverman
has focused much of 
his work on the 
ways that the public sector, private sector, and civil society can come together to improve 
people's lives. He will teach a graduate level seminar on innovations in government.
Nathaniel Keohane
, vice president at the Environmental Defense 
Fund.
Keohane
leads the 
fund's international climate program and helps shape the organization's advocacy for 
environmentally effective and economically sound climate policy. He will teach a module on 
climate change in the course "Gateway to Global Affairs.
"
Noah Kroloff 
, former chief of staff of the Department of Homeland Security. In his former post, 
Kroloff oversaw 240,000 federal employees, a $60 billion budget, and 22 federal agencies, 
including Customs and Border Protection, Immigration and Customs
Enf
orcement, and
Citizenship and Immigrations Services. Kroloff will teach a capstone seminar on immigration 
reform for seniors in the global affairs major.
Luis Moreno 

- 

Ocampo
, the first prosecutor of the International Criminal Court. Moreno 
- 
Ocampo brought
ch
arges against
Muammar
Gaddafi
for crimes against humanity committed in 
Libya, and the President of the Sudan Omar Al
Bashir
for genocide in Darfur, among others. He 
will teach a global affairs graduate seminar on the interaction between the U.N. Security C
ouncil 
and the international court, with a special focus on the case of Libya.
The seven senior fellows are also returning: 
David Brooks
, New York Times columnist; 
Thomas Graham
, former special assistant to the president and senior director for Russia on t
he 
National Security Council; 
Marc Grossman
, a former ambassador and under secretary of state 
for political affairs, who is the Kissinger Senior Fellow; 
Michele

Malvesti
, a vice president in 
the National Security Sector at Science Applications
Internationa
l Corporation; 
Stan 
McChrystal
, former commander of the International Security Assistance Force and of the 
United States Forces in Afghanistan; 
Stephen Roach
, one of Wall Street's most influential 
economists; and 
Emma

Sk
y, who has worked at senior levels o
n behalf of the U.S. and U.K. 
governments in Iraq, Afghanistan and Jerusalem, across the fields of development, defense, and 
diplomacy.
Contact Information:
Marilyn Wilkes
The Whitney and Betty MacMillan Center for International and Area Studies at Yale
(203) 432-3413