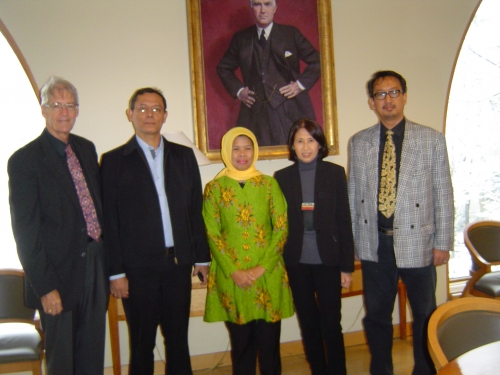 A symposium on "Religion and Public Policy in Southeast Asia," that focused on how religions influence public policy that affects women and religious minorities was held on March 10, 2017 in Henry R. Luce Hall. It gathered a team of panelists from the Indonesian Consortium for Religious Studies (ICRS) and discussants from Yale along with about twenty participants to discuss the findings of recent research conducted by ICRS along this theme. ICRS is part of a larger international team of researchers based in Southeast Asia who had embarked on a three-year comparative project to investigate how gender, diversity, and connectivity are managed through public policy across nine countries with their own varied religious traditions.
In his opening remarks, Michael Dove (Yale, Chair, Council on Southeast Asia Studies) positioned the symposium in the context of globalization that generated "friction" between the local practice and global discourses of a particular religion. Siti Syamsiyatun (Director, ICRS) highlighted that the broad range of experiences of policy-in-practice that the study had been able to elicit from respondents across nine Southeast Asian nations could become an empirical basis for future policy-making.
Each panel was comprised of two speakers and two discussants, with the first pair providing a broad comparative overview of the region and the second delving into the Indonesian case specifically. In the first panel, Jeanny Dhewayani and Leonard Epafras (ICRS) laid out the historical context and trends in how the major religions in the region – Islam, Buddhism, and Christianity – grappled with issues of gender. One key finding was religion often took on a patriarchal cast that was reinforced by a masculine state. Moreover, middle-class women in the public sphere often acted as "mouthpiece for religious conservatism" rather than an advocate for progress.  However, there is promise of change in the trend towards religious "heterarchy", a view that Syamsiyatun presented through a case study of the Aisjijah, a progressive women's movement in Indonesia.  Respondents Faizah Zakaria (Yale, History) and Kate Ott (Yale Divinity School) suggested that it is in these points of tension between state and society that we may productively look for an impetus for change, exemplified by "middle groups" concerned with both religious freedom and human rights.
The second panel examined the management of religious and ethnic diversity through public policy. Dicky Sofjan (ICRS, Project Director) outlined "a global turn toward religious conservatism" but cautioned that models that were theoretically grounded in Europe may not necessarily apply to the Southeast Asian context. For instance, the concept of separation between church and state did not resonate in Southeast Asia where religion had never been similarly institutionalized. Bernard Adeney-Risakotta (ICRS, International Representative) deepened the discussion of the conservative turn, highlighting recent incidents of religious intolerance in Indonesia. He characterized this as a "mimetic" trend that can simultaneously intensify and limit conflict as external narratives of existential threat filtered into Indonesian public circulation. In response, Heidi Hadsell (Hartford Seminary) provoked a discussion on models of global religious circulation and questioned whether externally generated values were more lethal to Indonesian harmony than internal developments.
In the final session, Sofjan emphasized that collaborative research is an important venue for mutual learning as strategies in different states can be shared for a common benefit.  One area for reform is religious literacy, which needs to be redefined so that education in religion extended beyond knowledge of one's own tradition. Such a form of literacy aims to push back against a monopoly of truth claims made by specific religions. The conference ended with the promise of future theory building based on this empirical work.
Dev Jothi, a symposium participant, found that the themes also resonated with experience of religion in South Asia. "Issues of religious syncretism and diversity go beyond methodological nationalisms and look at the connected histories of various societies," he commented. While there is still much work that can be done in this field, this symposium is a positive step toward greater multinational dialogue on global religions.
To view the full program, with presenter names and presentation titles, visit http://cseas.yale.edu/religion-and-public-policy-southeast-asia. This symposium was made possible by funding from the Henry Luce Foundation and Council for Southeast Asia Studies at the MacMillan Center at Yale.
---
Written by Faizah Zakaria, 2017 PhD Candidate, History, Yale University.