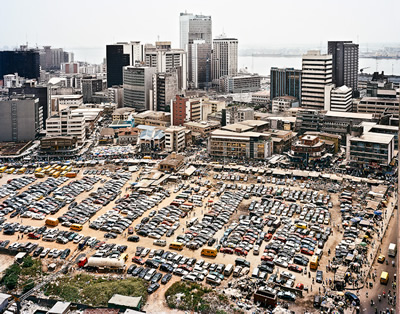 To integrate African, Chinese, and global perspectives, Yale University has partnered with leading business schools in Africa and China to host a series of high-profile conferences on China's impact on Africa. Nearly 150 established and rising thought leaders on Africa-China relations, including scholars, experts, entrepreneurs, policy makers, activists and opinion leaders will attend the first conference to be held in Lagos, Nigeria, on March 16-17, at the Lagos Business School.
"Rather than reiterating well-known problems, the conferences will move beyond existing debates," said Ian Shapiro, Henry R. Luce Director of the Whitney and Betty MacMillan Center for International and Area Studies at Yale, and Sterling Professor of Political Science. "For example, how can African societies benefit from intensified economic and political ties with China? How can China benefit from socially and politically sustainable investments into African economies? Our goal for these conferences is to create a network of thought leaders on Africa-China relations. We want to mobilize novel ideas, arguments, and solutions to promote balance, sustainability and growth in Africa-China relations."
Keynote speakers at the conference will be Ambassador Jianhua Zhong (Special Representative on African Affairs of the Chinese Government, Ministry of Foreign Affairs of the People's Republic of China); Professor Ibrahim Gambari (United Nations); Professor Anshan Li (Peking University); and Professor Howard French (Columbia University).
The topics that will be covered in panel discussions are Sino-African Business Models; Foreign Aid and Chinese Financial Assistance; Opportunities in Urban Development; Diaspora Communities; Financing Sino-African Infrastructure Projects; Renewable Energy and Environmental Protection; Globalization and Delocalization of Chinese Industry; Regulation: Challenges and Opportunities; Africa-China Relations in African, Chinese, and International Media; and Governance Risks and Challenges.
The second Africa-China Conference will be held in Beijing, China, in March 2017.
For more information about the Africa-China Conferences and the full Lagos conference program, visit http://africa-china.yale.edu.
The Africa-China conferences are convened by Yale University, Lagos Business School, and Peking University with corporate and financial support from Cummins Inc. and TigerJade Resources Ltd.; with academic and financial support from Yale Africa Initiative, The Whitney and Betty MacMillan Center for International and Area Studies at Yale, The Stephen and Ruth Hendel '73 Fund for Innovation in Africa at Yale University, The Hakeem and Myma Belo-Osagie Forum on Contemporary Africa at Yale University, Council on African Studies at Yale University, and the Council on East Asian Studies at Yale University; with network support from University of Ghana Business School, University of Cape Town, Fudan University School of Management, and Yale School of Management's Global Network for Advanced Management.