Africa-China relations explored at conference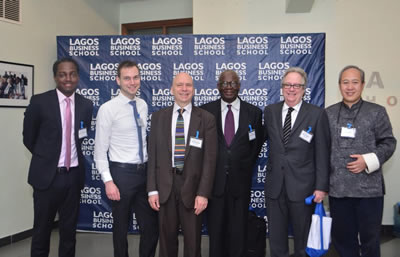 "Our views of African-Chinese relations are at least fifteen years out of date." Such was the motivating thought expressed by Professor Ian Shapiro (Yale University) at the opening of the Yale Africa-China conference on March 16, held at Lagos Business School in Lagos, Nigeria.
Attendees from academia, business, and the policy world discussed how to characterize the deepening economic ties between China and numerous African countries, which have generated optimism about opportunities for investment and growth in Africa, as well as concern about irresponsible lending and potential dependency on China.
In opening the conference, Professor Ibrahim Gambari, the Nigerian scholar and diplomat, emphasized that a sustainable relationship between Africa and China is good for both parties and the world at large. Professor Gambari warned against rhetoric that characterizes the relationship as neocolonial, and stressed that China's investment in Africa is multidimensional and does not just include natural resources.
When asked whether China seeks to repeat colonialism, Special Representative on African Affairs of the Chinese Government Zhong Jianhua responded that he had explained "again and again" that by offering an alternative to Western markets and building infrastructure in return for natural resources, "We [China] ruined the last hope for Africa to be colonized. Does China want to recolonize Africa? I don't see the logic of this question."
Many agreed that such logic assumes a lack of agency among the African governments that deal with China. "China is not Africa's babysitter" said Professor Isaac Odoom (University of Alberta) in a panel on financing Sino-African Infrastructure projects. His co-panelist Professor Nama Ouattara (George Washington University) agreed, and expressed her fears that African nations were "repeating the mistakes of the past" by failing to use resource earnings well or build political stability.
"Agency has been the watchword of this conference" noted Nkiruka Chiemelu (UN Global Compact), but added that "agency is meaningless without strategy" and suggested that the way forward lay in "matching agency to good strategies."
One strategy raised during the conference was that of regionalism and pan-Africanism. Numerous participants noted that the concept of "Africa-China relations" obscured the difficulties of aggregating the interests of fifty-four African countries. Professor Howard French (Columbia University), author of China's Second Continent: How A Million Migrants Are Building A New Empire in Africa, expressed his feeling that inequalities of size and development offered a "poor outlook for African governments" in one-on-one negotiations with Chinese business and government. However, when asked if the Forum on China-African Cooperation (FOCAC) had benefitted African bargaining power, Lucy Corkin (Rand Merchant Bank) responded that it had actually helped China more, since the African side remained driven by regional rivalries.
In his keynote lecture, Professor Anshan Li (Peking University) detailed a long history of Sino-African interaction dating back even before any European presence on the continent. Professor Li's emphasis on the mutual respect and shared histories between China and Africa mutes the idea that China is a new player. Professor Gambari meanwhile also emphasized that Africans do not feel exploited by China referencing a New York Times piece by Zambian economist Dambisa Moyo that cites a 2007 Pew poll of 10 Sub-Saharan African countries that showed respondents viewed China's involvement more positively than the America's.
However, Sino-African relations are not without their problems. Yuting Sun, a freelance journalist, documented negative stereotypes that persist between Chinese miners and locals in Ghana. Professor Jiang Qiuyu (McGill University) presented similar sentiments among Chinese nationals in China toward Africans that was exacerbated by the Ebola outbreak that began about two years ago this March in West Africa. There are also issues, such as the illegal trading of ivory that has seen African populations of elephants decimated, an issue that Professor Sara Van Hoeymissen (University of Botswana) presented, as well as the complexities of the Chinese involvement in Sudan and newly independent South Sudan. Ambassador Zhong maintains the Chinese government has no interest in escalating hostilities there, and Professor Gambari stressed that the Sudanese conflict is one that no foreign power seems to get right.
In the closing session, Professor Shapiro returned to the idea of agency and stressed that agency without strategy is impotent, but that strategy without goals is to forge ahead blindly. With the ultimate goal of development in mind, he listed economic diversification, infrastructure, and education as primary goals. Although several panelists discussed Chinese infrastructure projects and Professor Janet Eom (China Africa Research Initiative, Johns Hopkins University) discussed Chinese-funded education and training projects in Rwanda, the question of economic diversification remained open. The conference also left unanswered the question of China's aims. Though neocolonialism was dismissed, there was no substantive discussion of what China desired from its relationship with Africa. Both of these issues will be explored in a follow-up conference to be held in Beijing in March 2017.
For more information about the Africa-China Conferences and the full Lagos conference program, visit http://africa-china.yale.edu.
The Africa-China conferences are convened by Yale University, Lagos Business School, and Peking University with corporate and financial support from Cummins Inc. and TigerJade Resources Ltd.; with academic and financial support from Yale Africa Initiative, The Whitney and Betty MacMillan Center for International and Area Studies at Yale, The Stephen and Ruth Hendel '73 Fund for Innovation in Africa at Yale University, The Hakeem and Myma Belo-Osagie Forum on Contemporary Africa at Yale University, Council on African Studies at Yale University, and the Council on East Asian Studies at Yale University; with network support from University of Ghana Business School, University of Cape Town, Fudan University School of Management, and Yale School of Management's Global Network for Advanced Management.