After Navalny detention and sentencing, Borrell and Lavrov meet in icy exchange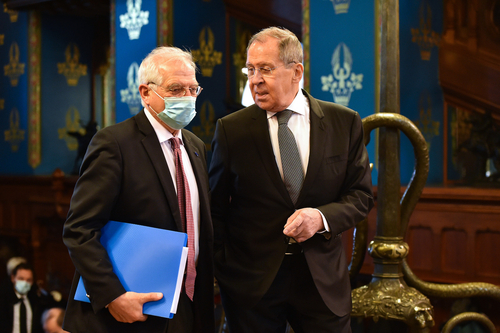 On January 17, Alexei Navalny returned to Moscow from Berlin, where he had been treated after having been poisoned with Novichok, a deadly chemical nerve agent, while campaigning in August for local elections in Tomsk. Landing at Sheremetyevo, he was immediately detained and, at a hearing the next day, was remanded in custody for 30 days pending a court appearance for failing to appear periodically for meetings as required when his 2014 sentence for embezzlement was suspended.
On January 18, Josep Borrell, the EU's High Representative for Foreign Affairs and Security Policy and Vice President of the European Commission, issued a declaration on behalf of the EU condemning Navalny's detention and calling for his immediate release as well as that of the journalists and citizens who had reported on and supported Navalny on his return. He said his detention "confirms a continuous negative pattern of shrinking space for the opposition, civil society and independent voices in the Russian Federation. The EU will follow closely the development in this field and will continue to take this into account when shaping its policy towards Russia."
In a video that was recorded after he was remanded to custody, Navalny called upon his supporters to go out in protest on Saturday, January 23. Fueled by his detention and his words, they came out, despite the bitter cold, in large numbers in more than 100 cities from St. Petersburg to Vladivostok. Police in Moscow estimated that 4,000 came out but independent news sources said there were ten times as many. In Moscow and the other cities, the protesters were met by large numbers of police wielding clubs, batons, and other weapons. Several thousand—more than 4,000 according to one independent monitor—were arrested.
On January 25, after a meeting of the EU's Foreign Affairs Council, Borrell said the Council "considered the arrest of Mr. Navalny and crackdown on his supporters completely unacceptable and condemned the mass detentions and police brutality over the weekend. We call on Russia to release Mr. Navalny and all those detained." He also said he had informed the Council he would be traveling to Moscow to meet with Foreign Minister Sergei Lavrov in the first week of February. The visit, he said, would be "a good opportunity to discuss … all relevant issues, to pass clear messages on the current situation and on the contentious topics of rights and freedoms. And also to have a strategic discussion on our relations with Russia, since in March the European Council is going to have a session devoted to this relationship."
Navalny's supporters called for more protests last Sunday in anticipation of last Tuesday's court hearing on his parole violation. Tens of thousands of supporters came out again in more than 100 cities across the country—and were met again by waves of police using batons, clubs, tasers and other weapons to beat back the protesters. Countless numbers were injured and, according to the OVD-Info group that has monitored the protests, more than 5,000 were arrested – more than 1,000 in Moscow alone, another 800 in St. Petersburg, and large numbers in Ekaterinburg, Novosibirsk, Vladivostok and other cities as well.
In last Tuesday's hearing, the Federal Penitentiary Service, claiming Navalny had failed to appear periodically after his sentence was suspended, asked for the original 3½-year sentence to be reimposed. The judge did so, subtracting the ten months he had spent under house arrest prior to having the sentence suspended, which means he faces two years and eight months in prison. After the court decision, Borrell called on Russia again to release Navalny and to do so immediately, tweeting, "The sentencing of Alexei Navalny runs counter (to) Russia's international commitments on rule of law & fundamental freedoms. It goes against the verdict of ECHR [European Court of Human Rights] which ruled this case arbitrary and unreasonable. I call for his immediate release."
Last Thursday, Borrell went, as planned, to Moscow, where he met with Lavrov as well as representatives of Russian civil society organizations, including organizations that face restrictions on their work as a result of Russian legislation, members of the European business community, and others. Undoubtedly, the low point of the three-day visit was his meeting with Lavrov. As they met, Borrell said, "certainly our relations are under severe strain and the Navalny case is a low point." And in a press conference afterwards, he said he had conveyed the EU's deep concern and reiterated its appeal for Navalny to be released: "While we fully respect Russian sovereignty, the EU considers issues related to the rule of law, human rights, civil society and political freedom are central to our common future." But, he said, "We have to recognize that over the last years, our relations have been marked by fundamental differences and lack of trust. We see each other more as competitors and rivals than partners." Lavrov, for his part, said relations between the EU and Russia "are not at their best, including due to one-sided, illegitimate restrictions introduced by the EU under trumped-up pretexts." And, he said, in a tone that could only be regarded as threatening, "The European Union is an unreliable partner. Further degradation of ties is fraught with negative and very, very unpredictable consequences."
To add another layer of ice to the already iced-over relationship, while meeting with Lavrov, Borrell learned, not from Lavrov but indirectly from Russian media sources, that Lavrov's ministry had expelled three diplomats from Germany, Sweden and Poland for having been at the earlier protests. Lavrov claimed, lamely, the news had leaked and the government had planned to make that known after Borrell had left. The foreign ministry subsequently said the three had taken part in "illegal demonstrations" on January 23 and their participation was "unacceptable and inappropriate for their diplomatic status." The governments of the three countries, along with France and the UK, objected to the expulsions, summoned the Russian ambassadors, and made it clear the expulsions will not go unanswered. German Chancellor Angela Merkel said the expulsions were "unjustified," French President Emmanuel Macron condemned them "in the strongest terms," and the Polish government summoned the Russian ambassador and demanded that Russia reverse its "erroneous decision." Borrell said he "strongly condemned this decision and rejected the allegations that they conducted activities incompatible with their status as foreign diplomats."
According to the EU's press release after the visit, Borrell "expressed clearly the EU's deep concern for the deteriorating human rights situation in Russia and the deliberate attempts to silence critical voices, NGOs and civil society. He reiterated the EU's strong condemnation of the recent sentencing of Alexei Navalny, which followed his illegal detention and assassination attempt by a chemical nerve agent on Russia soil. He reiterated that the EU expects Mr. Navalny's immediate and unconditional release, along with those arbitrarily detained in recent demonstrations. He stated that EU Foreign Ministers would discuss the implications of Mr. Navalny's sentencing and further EU action, having already imposed sanctions over the prohibited use of a chemical weapon, at this month's Foreign Affairs Council. During Mr. Borrell's visit, EU diplomats maintained contact with Mr. Navalny's lawyers."
Continuing, the press release said Borrell "strongly condemned the decision of the Russian authorities to expel three European diplomats and rejected the allegations that they conducted activities incompatible with their status as foreign diplomats. He called on the Russian authorities to reconsider this decision, stressing the EU's unity and solidarity with the Member States concerned." In closing, the release noted, pointedly, that, before leaving Moscow, Borrell "paid tribute to Boris Nemtsov, a leading opposition figure who was murdered six years ago in the heart of Moscow, at the site of the assassination." Nemtsov was murdered on February 27, 2015, the day before he was scheduled to lead a protest march against the deteriorating economic conditions in Russia and the continuing conflict in Ukraine, while walking home in the late evening on the Bolshoy Moskvoretsky Bridge,
Many—most notably, those in Poland and the Baltic states who are hardliners in regard to Russia  as well as others who share their view—were not happy that Borrell choose to go to Moscow after Navalny's sentencing rather than cancelling the trip. Many were also not happy that, with his comments about respecting Russian sovereignty, he implicitly gave Russia a pass not only in regard to Navalny's detention and sentencing but also on the brutal treatment and arrests of thousands of protesters. Nor were they happy that he went to Moscow despite the absence of any thaw in the "frozen conflicts" in Ukraine, Moldova and Georgia. And many winced when he proclaimed, in his press conference with Lavrov, that Russia's Sputnik V Covid vaccine was "good for all mankind" and endorsed its approval—despite the fact that the European Medicines Agency has not yet certified it for use in the EU.
Perhaps anticipating those criticisms, Borrell said in summarizing the visit, "Diplomatic channels need to remain open not only to de-escalate crises or incidents, but to hold direct exchanges, deliver firm and frank messages, all the more so when relations are far from satisfactory. I will debrief my EU colleagues on the outcome of my visit at the Foreign Affairs Council on 22 February, where we will have a dedicated discussion on EU-Russia relations, ahead of the strategic debate on EU-Russia relations at the March European Council."
In the meantime, Navalny faces another charge in another court appearance, this one for slander for a tweet last June in which he said those, including a 94-year-old war veteran, who supported a yes vote in the referendum on constitutional amendments proposed by Putin were "a disgrace to the country. People without conscience. Traitors." Among other things, the amendments, approved by 79 percent in the June 25-July 1 referendum, allow Putin, despite having been elected president for two four-year terms in 2000 and 2004 and then, after serving as Prime Minister for four years, having been elected for two six-year terms in 2012 and 2018, to be reelected to two more six-year terms in 2024 and 2030. If he is found guilty of slander, Navalny could be fined or required to perform community service—or possibly, since the sentence for slander was increased after the tweet, jailed.
---
David R. Cameron is a professor of political science and the director of the MacMillan Center's Program in European Union Studies.