Enslaved girlhoods and children's rights: Q&A with Wendy S. Hesford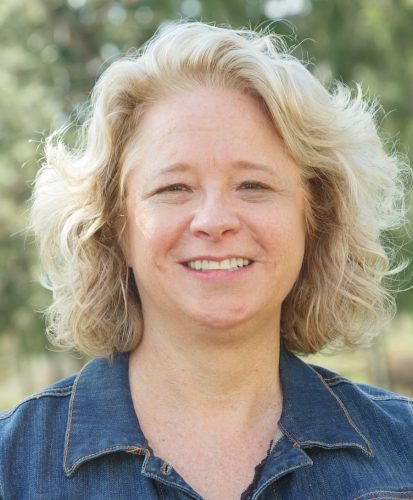 Wendy S. Hesford, a Professor of English at the Ohio State University, has spent this academic year as a Human Trafficking and Modern Day Slavery Interdisciplinary Fellow at the Gilder Lehrman Center for the Study of Slavery, Resistance, and Abolition at the MacMillan Center. While at Yale, she has been working on her research project "Enslaved Girlhoods: Human Trafficking Law, Literature, and Abolitionist Rhetoric," which is part of her forthcoming book, Exceptional Rhetorics: Regulating Childhood and Children's Rights. During the fall semester, she taught an undergraduate seminar on feminist perspectives on "Modern Slavery and Human Trafficking" as part of the fellowship. Marilyn Wilkes recently spoke with Professor Hesford about her current projects and her time at Yale. An edited version of the conversation follows.
Let's start with Exceptional Rhetorics. Tell us about it.
In this book, I examine international and national news and media representations of the rights of children identified as living in-between or outside of citizenship or in states of social exclusion. This project was born out of my last book, Spectacular Rhetorics: Human Rights Visions, Recognitions, Feminisms, which examines how human rights images construct certain bodies, populations, and nations as victims and how they are incorporated into human rights discourses on torture, unlawful detention, ethnic genocide and rape as a means of warfare, the trafficking of women and children, the global sex trade, and child labor. Exceptional Rhetorics picks up where Spectacular Rhetorics left off. In the final case-study of the earlier book, I analyze Born into Brothels, an academy award-winning documentary about Zana Briski, a British photographer, who goes to the red-light districts of Calcutta and interviews women in the brothels and then, as she puts it, falls in love with their children who are growing up there. These children are not sex workers, but given their families' economic circumstances they are vulnerable to moving toward that outcome. Briski gave several of the children point and shoot cameras, taught them photography, and urged them to document their experiences and excursions, which included outings to the beach and zoo. Many of the children's photographs were later exhibited and available for purchase through the non-profit organization Kids with Cameras.
What interests me about Born into Brothels is how the children are configured as having rhetorical agency–as empowered by the camera that was given to them by Briski. Born into Brothels is, on the one hand, an inspirational film, but, on the other hand, it also problematically follows long-standing orientalist narratives about white western outsiders coming to save brown women and children from oppressive brown men, cultures, and nations. The empowerment narrative, however, erases local activist efforts and struggles, including the achievements of sex workers' rights organizations. As a scholar working in the area of rhetoric and human rights, I realize that no single documentary can represent the complexity of any given geopolitical or local struggle and that representations cater to their imagined audiences. Empowerment narratives may be satisfying to distant audiences; however, they risk serving as alibis for global inaction.
Examining this film and another documentary and ethnography about child labor in the global South spurred my interest in thinking more about cultural and legal representations of children living in states of legal exception or social exclusion–stateless children, child refugees, child solders, enslaved children, and youth who are not attributed juridical status as children, such a Trayvon Martin, as well as those who become global icons, such as Malala Yousafzai. The chapter that I'm working on now examines the fusion of the discourses on the wars on terror and trafficking in domestic and international media coverage and political documentation of the Yazidi genocide and the Islamic State's enslavement and trafficking of Yazidi women and girls.
How are you doing the research for it?
Given that my main interest is in how visual and verbal representations of women and children's human rights struggles are mobilized or appropriated by human rights activists, artists, scholars, and governmental and non-governmental organizations to take on different political meanings and agendas, my methodology involves tracing or tracking representations and their repetition across institutions and media fields. While I'm interested in the origin of narratives and iconic images, origins are often hard to discern in the current digital environment. I'd therefore describe my method as a form of discursive detective work –investigating when and why certain narratives and images emerge and garner national or international significance. When and why do certain narratives or images become popular, iconic, publically accepted or contested?
Ultimately, what would you like readers to take away from your book?
I want my readers to be critically reflective about the information that they're taking in. I want them to be able to have a better idea of the implication and consequences of particular discursive frameworks and arguments are so that they can question both the framing mechanisms and their own ideological and political affiliations and motives.
Why did you want to be a Fellow at the Gilder Lehrman Center for the Study of Slavery, Resistance, and Abolition?
The great thing about being at the Gilder Lehrman Center is that I get to work with amazing faculty and fellows who focus on the history of slavery and contemporary human trafficking and its representation as a form of modern day slavery. It's been especially helpful for me to work with the historians because I am interested in past representations of the transatlantic slave trade and how the history of slavery resonates with the discourse of contemporary human trafficking and modern-day abolitionist campaigns. Additionally, it has been fruitful to share my work with GLC colleagues, Yale faculty, and members of the New Haven community.
What do you hope your students learned in your class?
Trafficking in human beings is a complex, global phenomenon, which can be approached in a number of ways, including as an issue of migration, organized crime, or from a human rights perspective, among others.  I want my students to think about the value of a humanities-based perspective in understanding human trafficking and modern-day slavery and to read anti-trafficking policy and international law as rhetorical artifacts. We need people in public policy, human rights media, and legal studies who are more carefully thinking about the influence of discursive and narrative frames. I want my students to understand that there are rhetorical commonplaces that define how we approach and respond to the problem of human trafficking, and how an issue is represented sets the parameters for how it will be addressed at the level of public policy. Narrative and rhetoric analysis is all about understanding how different discursive and ideological frameworks yield different public responses, policies, and action.  In sum, among my pedagogical goals is to encourage students to consider how narratives, which may humanize heretofore unseen or unheard subjects, are also easily co-opted to advance certain political platforms and agendas. Chief among my concerns then is to prompt my students to explore how social justice can be achieved within these seemingly resolute discursive terrains.
---
Wendy S. Hesford is Professor of English at the Ohio State University. She is the author of Framing Identities: Autobiography and the Politics of Pedagogy, and Spectacular Rhetorics: Human Rights Visions, Recognitions, Feminisms, a co-author of Rhetorical Visions: Writing and Reading in a Visual Culture, and a co-editor of Just Advocacy? Women's Human Rights, Transnational Feminisms, and the Politics of Representation, and Haunting Violations: Feminist Criticism and the Crisis of the "Real."