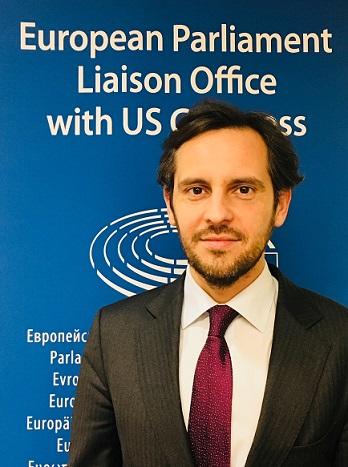 On Thursday, October 11, the European Union Studies Program at the MacMillan Center hosted João Rodrigues, Senior Legal Adviser to the European Parliament Liaison Office with the U.S. Congress and former 2016-2017 Visiting European Union Fellow at Yale, who spoke about the current relationship between the United States and the European Union. There are plenty of "ups and downs," admitted Rodrigues in his opening, talking about issues that lately strained the mutual relations.
Rodrigues highlighted especially the new volatility in United States' diplomacy, and the way it has been impacting its relationship with one of its closest allies. "Contrary to the past, you can't make forecasts about the future," Rodrigues stated, "it is not always clear the direction his [Trump's] administration is going."
More specifically, since Trump's administration took power, U.S. foreign policy has shifted from mostly championing a rules-based international order to cultivating a more transactional relationship in which it is "necessary to show the U. S. that they can win in some area" in order for them to settle on an agreement. To illustrate his point, Rodrigues pointed to the World Trade Organization and how the United States "hasn't been very helpful in trying to make it work." In Rodrigues' view, the reason the current administration does not regard the institution favorably is that it is unclear how the World Trade Organization furthers the interests of the United States; after all, some of its rulings have not been in line with what United States sees as its best interests.
Rodrigues then moved to unpack the underlying tensions between the two allies;  the first and most crucial factor he sees in the contrasting priorities concerning climate policy. Climate change is "Trump's forbidden word," and little has to be said about the U.S.'s weakening commitment after it declared its withdrawal from the Paris Agreement last year. At the same time, mitigating climate change and fostering more sustainable energy sources remains a priority for the European Union.
Another contentious point is the policy towards Iran—after Trump announced the withdrawal from the Iran Nuclear Deal, his European partners continued to work to keep the agreement at least partly alive. In another corner of the Middle East, Trump's decision to move the United States embassy from Tel Aviv to Jerusalem was another major source of tension, as was the United States' unwillingness to comply with the EU–U.S. Privacy Shield agreement, and the ongoing visa negotiations.
United States' relationship with the European Union has suffered, yet this, according to Rodrigues, is no reason to despair. To conclude, he highlighted the importance of open dialogue and adaptability to changing political circumstances.
---
Written by Sophia Zhao