Genocide Studies Program awarded funding from Charles E. Scheidt Family Foundation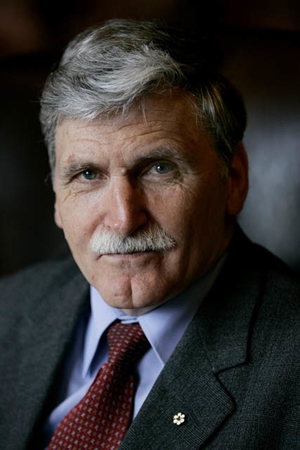 Wednesday, March 30, 2016
The Genocide Studies Program at the Whitney and Betty MacMillan Center for International and Area Studies at Yale has been awarded funding from the Charles E. Scheidt Family Foundation.
"Unfortunately, genocide and mass atrocities are not a 20th century problem but increasingly a central issue in the 21st century," said Charles Scheidt, Yale College Class of 1964.
The Scheidt funding will support several initiatives focused on undergraduate education in the area of genocide prevention, including summer internship funding; a year-long post-graduate fellowship; and two public events per year (one each semester).
"The grant offers a wonderful opportunity for students to become more involved in genocide studies, both by promoting exposure to leading figures in genocide and mass atrocity prevention and by supporting internships with organizations that are devoted to that mission," said David Simon, Director, Yale Genocide Studies Program.
The inaugural public event will feature Lieutenant-General Romeo Dallaire (ret.), the Canadian former commander of the UN peacekeeping force in Rwanda, and will be held on April 6, at 7 p.m. in Linsly-Chittenden Hall, Room 102, 63 High Street.
General Dallaire is a retired Canadian Senator, a retired Canadian Army Lieutenant-General, a devoted humanitarian, and an outspoken advocate and champion of human rights.
During his distinguished military career, General Dallaire commanded the United Nations peacekeeping mission in Rwanda prior to and during the 1994 genocide.  His courage and leadership during this ill-fated mission has earned him recognition, affection, and admiration from around the globe. 
A graduate of the Royal Military College of Canada, General Dallaire holds honorary doctorates and fellowships from more than three dozen universities in Canada, the United States and abroad.
He is author of two best-selling books: Shake Hands with the Devil – the Failure of Humanity in Rwanda and They Fight Like Soldiers; They Die Like Children – the Global Quest to Eradicate the Use of Child Soldiers.
General Dallaire is an Officer of the Order of Canada, a Grand Officer of the National Order of Quebec, a Commander of the Order of Military Merit, recipient of the Pearson Peace Medal, the Meritorious Service Cross, the United States Legion of Merit, the Aegis Award on Genocide Prevention, the Harvard Secular Society Humanism Award, the Edita and Ira Morris Hiroshima Foundation for Peace and Culture Award and the United States Holocaust Memorial Museum Elie Wiesel Award. General Dallaire is now dedicating his time to humanitarian causes.
For more information about the Yale Genocide Studies Program, visit http://gsp.yale.edu.