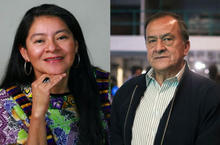 On April 10, the Council on Latin American & Iberian Studies hosted Irma Alicia Velásquez Nimatuj and Rigoberto Quemé Chay, two prominent figures in the Guatemalan indigenous community, for a discussion on indigenous resistance. Velásquez Nimatuj is a journalist, social anthropologist, and international spokeswoman. She initiated the court case that made racial discrimination illegal in Guatemala, has written a number of books and articles on indigenous experience, and works with the UN, UNICEF, and other NGOs to promote indigenous rights. Rigoberto Quemé is a Maya-K'iche' intellectual, anthropologist and activist who has participated in indigenous political movements in Guatemala since the 1960s. In 1994 he was elected the first indigenous mayor of Quetzaltenango. Currently, Rigoberto Quemé is one of the main promoters for the creation of a Mayan University, and he leads a group of diverse social and political actors who are fighting against the persistence of colonialism and supporting processes of self-determination for the peoples of Guatemala.
The talk began with a screening of Perita (Expert Witness), a short documentary about the 2016 trial of military leaders for crimes against humanity in the form of sexual violence against indigenous women. This was the first criminal trial for sexual slavery as a weapon of war ever heard in a national court. Velásquez Nimatuj served as an expert witness, bringing forth testimony gathered from many of these indigenous women. Both military leaders were found guilty and each sentenced to over 100 years in prison.
Following the screening, Rigoberto Quemé spoke about the importance of international support for a people who have suffered violence for hundreds of years. He explained that it is international pressure and international laws that are compelling the Guatemalan judicial system to change and allow indigenous people to demand justice and reparations. Though there have been improvements in recent years, with the judicial system adding official interpreters and cultural representatives for indigenous peoples, more progress needs to be made to eliminate racism as a way of thinking and allow for more indigenous participation.
Velásquez Nimatuj then spoke about the Guatemalan civil war and its impact on indigenous communities. During the war, indigenous communities suffered numerous massacres and acts of sexual violence, and only in the 2000s did indigenous communities start to demand justice from the government. The first trial was in 2008, brought by the only 13 survivors of an indigenous community against the Guatemalan state, and other trials continued through 2016. International media, sympathetic lawyers, NGOs and human rights organizations were all key to changing public perception in Guatemala and supporting the survivors. These indigenous women are an important example of how the poor and powerless can still change the justice system.
Members of the audience were given the chance to ask questions of the two speakers, moderated by Elisabeth Wood, Franklin Muzzy Crosby Professor of the Human Environment and Professor of Political Science, International and Area Studies. After the Q&A discussion, Velásquez Nimatuj and Rigobeto Quemé were the guest speakers in Margherita Tortora's Spanish in Film course. 
---
Written by Claire Thomas, Class of 2019.