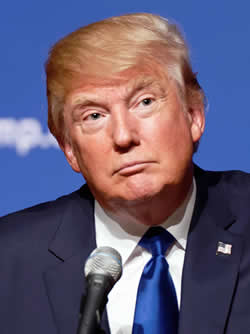 Thursday, January 26, 2017
As the new U.S. administration settles into the White House, many questions remain regarding its foreign policy stance toward Eastern and Central Europe, especially given President Trump's ambiguous relationship with Putin. Amid these concerns, the European Studies Council and the Program in European Union Studies at the MacMillan Center hosted a panel on January 24 to discuss challenges in Central and Eastern Europe in the context of the new U.S. administration. The panelists included David Cameron, a Professor of Political Science; Thomas Graham, a Senior Fellow at the Jackson Institute specializing in Russia; and Yuriy Sergeyev, a Rice Faculty Fellow and former Ukrainian diplomat. (view video)
Mr. Graham began by noting the difficulty of speculating about the Trump administration's foreign policy due to contradictions in Trump's campaign rhetoric. On one hand, President Trump's warm words about Putin and criticisms of NATO suggest the possibility of closer ties between the U.S. and Russia. On the other hand, the Kremlin may be antagonistic towards President Trump's promise of U.S. military modernization and "nuclearization" as well as his denunciation of the Iran Nuclear Deal, to which Russia is committed.
Mr. Graham remained skeptical about drastic improvements in U.S.-Russian relations. There are still deep differences between the two nations due to conflicting principles of world order, conceptions on how Europe's strategic structure should look, and ideas about how to deal with Syria and Ukraine. "The differences are quite steep," he said. In the next future, he expects an opening of Russia-U.S. communications, which have been frozen since the Ukraine crisis, and a continued effort by the White House to "dedemonize" Putin.
Ambassador Sergeyev, who formerly served as the Permanent Representative of Ukraine to the United Nations, then outlined concerns and challenges that face Ukraine. The most pressing issues are defeating the Russian challenge and obtaining the support of other countries like the U.S. in order to do so. Although President Trump and Rex Tillerson, CEO of Exxon Mobil and nominee for Secretary of State, have criticized the Obama administration for its weak response to Russian aggression in the Crimea, President Trump's isolationist leanings bring into question exactly how much the U.S. is willing to commit to maintain Ukrainian independence. Ambassador Sergeyev ruefully wondered if the administration understands that even if agreements are made, Russia does not have a tradition of keeping promises.
Similarly, Professor Cameron noted the ambiguity of the Trump administration's foreign policy, adding that the new administration has moved much more slowly than administrations in the past. He stressed the campaign's strong isolationist tone, which might even be welcome in countries like Moldova and Bulgaria where leaders are sympathetic to working with Russia. He argued that the EU is losing some of its capacity to exert leadership. For Central and Eastern European countries, "the EU has lost a certain amount of attraction."
Professor Cameron concluded, "It's a grim situation, I think, from the point of view of many in Central and Eastern Europe." 
---
Written by Julia Ding, Yale College Class of 2019.