Nobel Laureate Abdulrazak Gurnah Speaks Powerfully on "Writing Memory"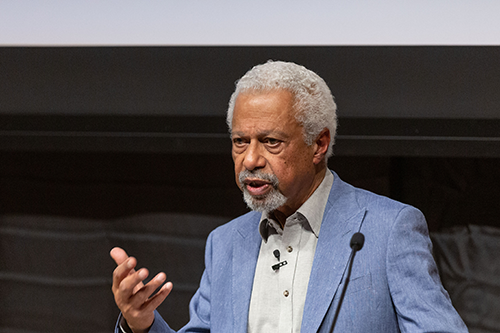 On April 19, the Council on African Studies at the Yale MacMillan Center hosted Nobel Laureate and celebrated author Abdulrazak Gurnah for a two-day visit to campus. At Yale, Gurnah met with students in the Council's Swahili classes before speaking on "Writing Memory" to a full audience at the Humanities Quadrangle.
Gurnah, a Zanzibar-born British novelist, often delves into themes of migration, displacement, and the intricate connections between people and their homelands in his writing. His most recent novel, "Afterlives," has garnered critical acclaim for its poignant exploration of memory and the complexities of postcolonial Africa. He was awarded the Nobel Prize for Literature in 2021, the first Black writer to receive the prize since Toni Morrison (1993), and the first African writer since Nadine Gordimer (1991).
In his lecture, Gurnah discussed memory as a writer's source of inspiration and as their responsibility. "Memory is a vital resource," Gurnah said. "I'm not referring to the ability to remember certain facts or details; I'm referring to the swamp of memories that linger on long after the moment has passed and which, at times, strike out of silence to leave one quivering with sorrow, and, if one is lucky, with unexpected elation." Accordingly, he explained, "It's the writer's self-inflicted burden to make something engaging, productive, or even beautiful out of this."
Gurnah asked the audience to consider the definition of "refugee," and discussed the anxiety in Europe over the growing number of refugees arriving from outside of the continent. Yet, he argued, when we speak of refugees, "we should remind ourselves that the European colonization of the continents was also a deprivation of the rights and lands of native peoples, some of whom now have no recourse but to seek the safety and prosperity which their oppression has produced." He went on to speak of the moral obligation to offer hospitality to people in danger and to avoid criminalizing the desire for safety and self-fulfillment.
"While 'refugee' appears to be a word with a firm and clear idea of its reference, it includes the terrified Rohingya child, and," he said, with a nod to his own story, "the young African man recklessly risking everything for a life in Europe."
Discussing writing as a form of resistance, Gurnah argued that writing resists the often state-sponsored encouragement to forget what has led to the present, the compulsion toward distortion, distraction, or neglect. But in addition to using the pen to fight tyrants, he argued that writing is also "about the ordinary mundane business of keeping alive what is important, which is about how people imagine themselves, and how they see and describe the world they live in."
The nostalgia for one's place of origin has animated Gurnah's ten novels and numerous essays and short stories. Gurnah noted other writers from the Global South who have returned to their homelands in their writing long after they have left, including Edward Said, Nuruddin Farah, Kamau Brathwaite, Derek Walcott, Wilson Harris, and Jean Rhys. He asked his listeners, "So what is it about place that has this incredible grip on the writer's imagination? What is it that makes it so difficult to give up the force of its memory?"
Gurnah attributed this attachment to "unredeemed injustice, an unappeased longing, where, to abandon an obligation to place and people seems like treachery." However painful or ineffectual the act of writing memory might seem, he concluded, "the impulse to do so is unavoidable because to do otherwise—to forget—would seem like self-indulgent neglect."
After the lecture, Gurnah mingled with students, faculty, staff, and members of the community in a reception at Yale's Beinecke Rare Book & Manuscript Library.
Watch Gurnah's lecture "Writing Memory"