NYU Professor Wins the Seventeenth Annual Frederick Douglass Book Prize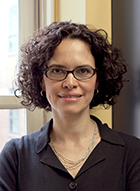 Ada Ferrer, professor of history and Latin American and Caribbean studies at New York University, has been selected as the winner of the 2015 Frederick Douglass Book Prize for her book "Freedom's Mirror: Cuba and Haiti in the Age of Revolution" (Cambridge University Press).
The Douglass Prize was created jointly by Yale University's Gilder Lehrman Center for the Study of Slavery, Resistance, and Abolition and the Gilder Lehrman Institute of American History. It is awarded annually by the Gilder Lehrman Center for the best book written in English on slavery or abolition. The $25,000 prize will be presented to Ferrer at a reception sponsored by the Gilder Lehrman Institute in New York City on Feb. 4, 2016.
In addition to Ferrer, the other finalists for the prize were Ezra Greenspan for "William Wells Brown: An African American Life" (W. W. Norton), and Michael Guasco for "Slaves and Englishmen: Human Bondage in the Early Modern Atlantic World" (University of Pennsylvania Press).
This year's finalists were selected from a field of more than 80 books by a jury of scholars that included Douglas Egerton (chair) of Le Moyne College, Rosanne Adderley of Tulane University, and James Sweet  of the University of Wisconsin. The winners were selected by a review committee of representatives from the Gilder Lehrman Center, the Gilder Lehrman Institute of American History, and Yale.
"Freedom's Mirror" offers "a fresh perspective and links these two nations together in a complex web, in which sugar slavery declined in Haiti just as it rose in Cuba," commented the jury. "Ferrer's research is most impressive; she fills her pages with proslavery Cuban generals, African slaves in both colonies, refugee 'French Negroes,' and Haitian leaders who hoped to weaken slavery on the islands that surrounded them. 'Freedom's Mirror' will force even specialists to reconsider this era." The jury also praised Ferrer's "rendering of the complex politics in a beautifully written and understandable way that will be readily followed by readers with minimal knowledge of 19th-century Cuba, Haiti, and the Spanish Caribbean."
The Frederick Douglass Book Prize was established in 1999 to stimulate scholarship in the field of slavery and abolition by honoring outstanding books on the subject. The award is named for Frederick Douglass (1818–1895), the slave who escaped bondage to emerge as one of the great American abolitionists, reformers, writers, and orators of the 19th century.
The Gilder Lehrman Center for the Study of Slavery, Resistance, and Abolition, a part of The Whitney and Betty MacMillan Center for International and Area Studies at Yale, was established in November 1998. Its mission is to promote the study of all aspects of slavery and its destruction. The center seeks to foster an improved understanding of the role of slavery across all borders and time by promoting interaction and exchange between scholars, teachers, and public historians through publications, educational outreach, and other programs and events. For further information on Gilder Lehrman Center events and programming, contact the center by phone 203-432-3339, fax 203- 432-6943, or e-mail gilder.lehrman.center@yale.edu.
The Gilder Lehrman Institute of American History, founded in 1994 by philanthropists Richard Gilder and Lewis E. Lehrman, is a New York–based national nonprofit devoted to the teaching and learning of American history. Gilder Lehrman draws on top scholars, an unparalleled collection of original historical documents, and a national network of more than 7,000 affiliate schools to create and provide a broad range of innovative resources, help new generations of students learn about American history in a way that is engaging and memorable, and promote critical thinking and excellent writing. To learn more, visitgilderlehrman.org.