Some progress in EU-UK talks, but still big differences on two key issues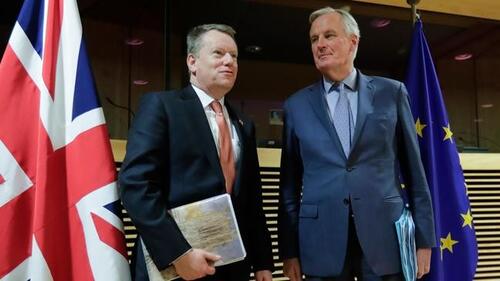 Mindful that the clock continues to tick, second by second, toward midnight on Dec. 31, when the UK will leave the EU's Single Market and Customs Union, with or without an agreement in regard to their future relationship, and mindful also of the very limited progress in the negotiation of an agreement, last month Michel Barnier, the EU's chief negotiator, and David Frost, the UK's chief negotiator, agreed that, in order for an agreement to be completed, approved, and ratified by Jan. 1, 2021, the pace of the negotiation would have to be intensified. Toward that end, the EU and UK agreed to an addendum to the terms of reference for the negotiation that scheduled a series of weekly meetings over the summer, beginning with a restricted round in the format of a meeting of the chief negotiators and specialized sessions in Brussels the week of June 29-July 3; meetings of the chief negotiators and their teams and specialized sessions in London the week of July 6-10 and Brussels last week; the fifth full week-long round of negotiation in London this week; a meeting of the chief negotiators and their teams and specialized sessions in London next week; and, after a two-week break, the sixth full week-long round of negotiation in Brussels the week of Aug. 17-21. The fifth week-long round began Monday evening with a dinner of the chief negotiators and concluded yesterday. 
In their public statements following each of the previous four week-long rounds of negotiation, the two words most frequently used by Barnier and Frost to describe what had happened were "no progress," followed by comments about their differences in regard to such issues as maintaining a level playing field for open and fair competition, keeping British waters open to EU fishing, governance of the agreement and dispute resolution, and other issues. But yesterday, in their statements following the conclusion of this week's round, both chief negotiators said for the first time progress had been made in regard to some of the issues discussed in the round. Big differences remain in regard to some issues – most notably, maintaining a level playing field and fisheries. But there is, for the first time, some reason to think the negotiation will produce an agreement that can be approved by the European Council at its mid-October meeting and by the European Parliament, and then be ratified by the UK and the EU member states in time for it to take effect on Jan. 1, 2021. 
Although Barnier began his statement about this week's round by noting the UK had not shown the same level of engagement and readiness to find solutions respecting the EU's fundamental principles and interests that the EU had in regard to the UK's principles and interests, he did note that the discussions took place in a "positive atmosphere" and that they had "useful discussions" in regard to trade in goods and services, transport, and energy. And he noted they had made some progress in narrowing their differences in the areas of social security coordination and Union programs, in the design of a single comprehensive institutional framework with robust enforcement mechanisms, and in regard to law enforcement and judicial cooperation. Likewise, in his statement following the conclusion of the round, Frost said the EU had listened to the UK on some of the issues most important to it such as the role of the European Court of Justice and had taken a "more pragmatic approach." And he said the UK had heard the EU's concerns about its suggestion of a complex Switzerland-styled set of sectoral agreements "and we are ready to consider simpler structures." He also noted that they had "constructive discussions" on trade in goods and services, and in some of the sectoral agreements involving transport, social security cooperation, and participation in EU programs, and had deepened their mutual understanding of each other's constraints in regard to law enforcement. 
That said, Barnier nevertheless also noted there still has been no progress on two essential issues: first, the need for "robust guarantees for a level playing field – including on State aid and standards – to ensure open and fair competition," and second, "a balanced, sustainable and long-term solution for fisheries, with the interests of all Member States concerned in mind, and not least the many men and women whose livelihoods depend on it on both sides." In regard to both issues, he said, "this week again, the UK did not show a willingness to break the deadlock." In regard to the level playing field, he said the UK "still refuses to commit to maintaining high standards in a meaningful way." On State aid, he said, "we have made no progress at all." And in regard to climate, environment, labor or social law, he said, "the UK refuses effective means to avoid undercutting by lowering standards." In regard to fisheries, Barnier said, "the UK is effectively asking for a near total exclusion of EU fishing vessels from UK waters. That is simply unacceptable." He acknowledged that the UK will be an independent coastal state and the EU fully respects that. But, he said, "common stocks need to be managed jointly – according to international law and the principle of responsible and sustainable management of resources. And any agreement cannot lead to the partial destruction of the EU fishing industry." Concluding with a warning, he said, "The EU has always insisted that an economic partnership with the UK must include robust level playing field rules and an equitable agreement on fisheries. That means that, by its current refusal to commit to conditions of open and fair competition and to a balanced agreement on fisheries, the UK makes a trade agreement at this point unlikely." 
Likewise, Frost, while noting that the EU had listened to some of the UK's concerns and that there had been "constructive" discussions" this week, said "considerable gaps remain in the most difficult areas, that is, the so-called level playing field and on fisheries. We have always been clear that our principles in these areas are not simple negotiating positions but expressions of the reality that we will be a fully independent country at the end of the transition period. That is why we continue to look for a deal with at its core, a free trade agreement similar to the one the EU already has with Canada….We remain unclear why this is so difficult for the EU, but we will continue to negotiate with this in mind." In closing, he noted that when the next round in the negotiation begins [on Aug. 17], there will be little more than four months left until the transition period ends at midnight on Dec. 31, and that, although the UK will continue to work energetically to seek an agreement, it must face the possibility that one won't be achieved and must therefore continue preparing for "all possible scenarios" – i.e., a no-deal exit from the EU's Single Market and Customs Union. Nevertheless, sounding more optimistic than Barnier, he concluded with these words: "Looking forward, there are large areas of convergence in many of the areas on which we are negotiating and ample precedents and texts on which we can base our work. We will keep working hard to bridge the gaps and find a way through….Despite all the difficulties, on the basis of the work we have done in July, my assessment is that agreement can still be reached in September, and that we should continue to negotiate with this aim in mind." 
There are two important take-aways from this week's round: First, unlike the previous rounds, they made some progress – indeed, a good deal of progress. Second, if the EU and UK can resolve their differences in regard to two issues – the level playing field and fisheries – there will be an agreement. That's a big if. But it could happen. 
David R. Cameron is a professor of political science and director of the European Union Studies Program at the MacMillan Center.