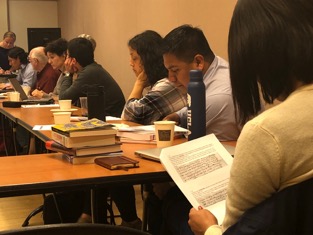 Yale University's Council on Latin American and Iberian Studies (CLAIS) hosted 2018's Northeastern Group of Nahuatl Scholars between Friday, May 11 and Sunday, May 13.  Nahuatl is the language of the Aztecs of Central Mexico before the Spanish conquest. Today, it has more than one million native speakers in Mexico.  The Northeastern group of Nahuatl scholars' annual meeting brought advanced scholars and graduate students from all over the world for three days of presentations, language workshops, and networking events. It is an important meeting-point for scholars engaging in Nahuatl-related research across disciplines in the social sciences and humanities. This year's conference was dedicated to the memory of Alfred W. Crosby, the influential world historian who passed away in March 2018.
The interdisciplinary conference featured presentations of original ethnographic, literary, philological, linguistic, art history, ethno-historical research, and research on the Nahua from the colonial to modern periods, from studies of music in colonial Huasteca, to Nahuatl theater, religious imagery, and verb variation in modern Nahuatl. Much of the conference was also devoted to group language study and analysis. Nahuatl language scholars assisted researchers with challenging words or passages encountered in their research. They also hosted seminar sessions on glyph, syntax, noun pluralization, and free variation. 
The conference ended with group document analysis sessions of challenging written passages in original documents produced in the early modern period, coordinated by members of the "Endangered Languages, Comprehensive Models for Research and Revitalization" research group based at the University of Warsaw. The documentary analysis workshops provided a rare opportunity for scholars, who have diverse levels of familiarity with the geographical variations of Nahuatl, to work through challenging language issues together in a common space.
This year's conference builds on CLAIS and Yale University's commitment to supporting the study of Nahuatl. CLAIS also sponsors an intensive Nahuatl language course in the summer, hosted at Yale in cooperation with the Instituto de Docencia e Investigación Etnológica de Zacatecas, Mexico (IDIEZ).