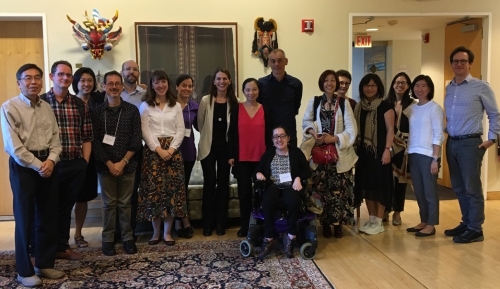 Tuesday, September 18, 2018
The Council on East Asian Studies (CEAS) at the MacMillan Center hosted a conference entitled "Material Culture and Mao's China" between Friday, September 14 and Saturday, September 15. An interdisciplinary group of about twenty scholars met to examine the material culture, materiality, and relationship between people and things in the history of the People's Republic of China. Participants heard opening remarks from Sarah Anne Carter, a curator at The Chipstone Foundation, who also led two object study sessions, during which individuals were paired off and asked to examine and to curate exhibits with artifacts from China's socialist past, including ceramics, mirrors, badges, homespun cloth, and magazines and books. 
Participants presented papers on a range of topics, from the use of bamboo in furniture making to the building of the Third Front industrial town of Panzhihua. Panels covered multiple aspects of material culture, from fabrication and building to production and consumption, from circulation and utility to invention and reinvention. A final panel studied the relationship between the body and material objects in Mao's China, with one paper on socialist dance and the relationship of the dancer to a prop, and another study on the role of film projectionists in spreading cinema to remote areas in the countryside. 
The conference as a whole provided an opportunity to think about what materials and objects can teach us about both lived experience and broader systems in the recent Chinese past. Hosted by Denise Y. Ho of Yale's history department in co-ordination with Jennifer Altehenger of King's College London, this conference is part of a larger project which will also culminate in published papers and a website entitled, "The Mao Era in Objects."