3rd Park Memorial Lecture in Korean Studies : "Women and Buddhism: The Case of Kim Iryŏp"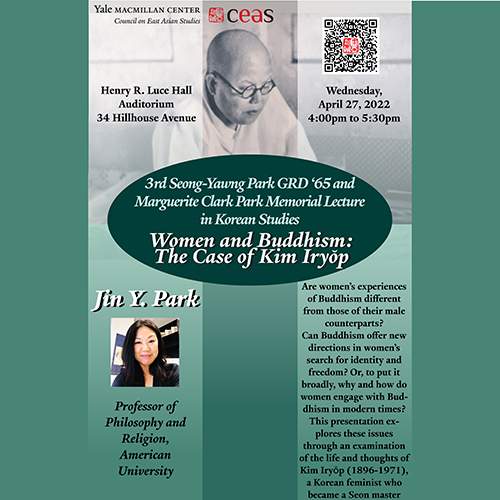 Written by Fany Kuzmova, School of Architecture 2024.
The Council on East Asian Studies at Yale University invited Jin Y. Park, Professor and the Chair of the Department of Philosophy and Religion at American University, to deliver the 3rd Seong-Yawng Park GRD '65 and Marguerite Clark Park Memorial Lecture on April 27th, 2022. The Seong-Yawng Park GRD '65 and Marguerite Clark Park Memorial Lecture was founded with the generosity of the Park family and aims to foster the study of Korea at Yale University by bringing recognition of the Korean peninsula and its affairs and achievements to Yale and the wider community.
Her research explores Korean Buddhism, intercultural philosophy, modern East Asian philosophy, and Buddhist and intercultural ethics, focusing on the intersections of gender, violence, the politics of discrimination, and narrative identity. In her book Buddhism and Postmodernism: Zen, Huayan, and the Possibility of Buddhist Postmodern Ethics, published in 2008, Professor Park dispels century-old suspicions of Buddhism as a religion of nothingness or one that disregard philosophers. She offers the ethics of tension as a potential ethical paradigm drawn from Zen and Huayan Buddhism and postmodern philosophy, with a special focus on Jacques Derrida's deconstruction. Her other book, titled Reflections of a Zen Buddhist Nun, published in 2014, is a meticulous translation of a bestseller book published in Korean in 1960 by Kim Iryŏp, a writer, first-generation Korean feminist, Buddhist nun, and philosopher, who presents a creative interpretation of Buddhist philosophy and practice. Women and Buddhist Philosophy: Engaging Zen Master Kim Iryŏp is a sequel to Reflections of a Zen Buddhist Nun but offers a broader, in-depth analysis of Kim Iryŏp's oeuvre. Professor Park proposes a new mode of philosophizing based on the discussion of Kim Iryŏp's life experience and worldview. She terms this new mode of philosophizing as narrative philosophy, which engages itself with a narrative discourse of our daily experiences instead of relying heavily on theorization and abstraction. Professor Park currently serves as President of the North American Korean Philosophy Association and as Vice President of the American Academy of Religion as the first East Asianist to be elected to the position in the Academy's 100-year history. She has also served as President of the Society for Asian and Comparative Philosophy and was the Founding Director of the International Society for Buddhist Philosophy. She is a recipient of the Korea Foundation Advanced Research Grant, the American Academy of Religion Research Grant, and most recently, the Uberoi Foundation Religious Studies Grant.
For the Seong-Yawng Park GRD '65 and Marguerite Clark Park Memorial Lecture, Professor Park's talk titled "Women and Buddhism: The Case of Kim Iryŏp" was centred on modern-day Buddhism and the place of women in it. Some of the questions examined were:
Are women's experiences of Buddhism different from those of their male counterparts?
Can Buddhism offer new directions in women's search for identity and freedom?
Why and how do women engage with Buddhism in modern times?
Her talk explored these issues through an examination of the life and thoughts of Kim Iryŏp (1896-1971), a Korean feminist who became a Seon master. As a daughter of Christian parents, Kim Iryŏp herself was raised to be a very faithful Christian and she envisioned her future as a Christian missionary when she was only seven years old. But then eventually, during her teenage years, she began to have doubts about Christianity. Until she encountered Buddhism, she did not have a religion for about 10 years. Another important aspect of Kim Iryŏp's life was her education. She was one of this first generation of Korean women who received public
Western-style education for women and spent a few years furthering this education in Japan. Soon after, she was the editor-in-chief for the journal titled Sinyŏja, meaning "New Woman." Her life in the 1920s was of a very engaged writer, women's movement activist, and a public intellectual. In 1933, she joined the monastery and she was a major figure in the Korean Buddhist nuns' community until her death in 1971. As a first-generation Korean feminist, she demanded changes to gender inequality, publicly discussing the sensitive issue of body politics in the Confucian Korean society. As a Buddhist nun, she relied on Buddhism in her search for freedom and liberation. By tracing Iryŏp's life story and her journey to find women's identity and freedom through Buddhist philosophy and practice, this talk explores the meanings of autobiography, narrative identity, and writing as testimony as well as investigating how meaning is constructed in our daily existence. Placing this discussion in a broader context, the talk also considers the role of gender in our discipline, the position of women in the intellectual history of modern Korea, and the impact of this position on knowledge production.
The Council on East Asian Studies was excited to have Professor Park share her research to the broader Yale community, and the warm reception that followed showed the growing interest in Korean Studies at Yale University as the Korean studies program continues to grow. Professor Park's scholarship and contribution undoubtedly has left its mark on the community at Yale as it looks forward to continue forging strong relationships and building community with East Asia