Denise Ho: Becoming the Song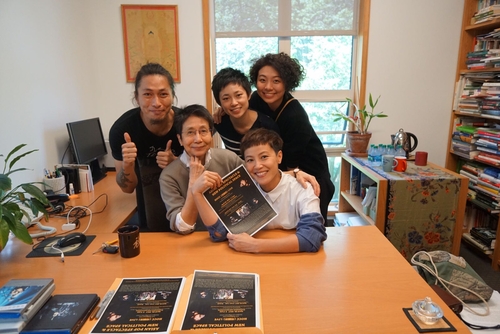 A documentary film on Hong Kong, Denise Ho: Becoming the Song, was supported by the MacMillan Center's Council on East Asian Studies and the Hong Kong Institute for the Humanities and Social Sciences at the University of Hong Kong.  Its executive producer is Yale University Professor of Anthropology Helen F. Siu, and its director/producer is renowned documentary film-maker Sue Williams. The film tells a uniquely "Hong Kong story" that captures the lived experiences of generations, as reflected by the life and career of the Cantopop singer turned activist.  It followed the singer's global travels, concerts and personal reflections, taking viewers behind the scenes into her rise to fame and her journey as an activist in Hong Kong's 2014 Umbrella Movement and the Anti-Extradition Bill protests in 2019.  The 83-minute documentary premiered in North America by Kino Lorber on July 1, 2020.
The film was awarded an official selection for Frameline, San Francisco International LGBTQ Film Festival, the Singapore International Film Festival, the Filmex Festival in Tokyo, the Athena Festival in New York.  It was also a Critics Pick by the NYTimes and featured by roger.ebert.com and Video Librarian on their list of best documentaries in 2020.
On April 30, the Yale Council on East Asian Studies hosted a free screening of the documentary and a post-screening discussion co-moderated by Professor Siu and Yale Assistant Professor of History Denise Ho. Professor Siu shared her experience creating the documentary as she discussed in detail the filming and editing processes.  Her interest in the Cantopop singer and new political space in popular culture started when watching the singer perform in a street concert in an unexpectedly packed neighborhood in Hong Kong in June 2016, after cosmetic giant Lancôlm dropped its sponsorship.  The anthropologist in Siu wondered what Hong Kongers of various age groups saw in Ho and her music.  Professor Denise Ho stressed that the film reflected a cherished Hong Kong experience for many.  For Professor Siu, it was also a "labor of love" and "an act of collective empathy and conscience." A native Hong Konger herself, Professor Siu hoped that "the world would hear us." When asked what she would see in future for Hong Kong's democratic aspirations, she pointed to the massive migrations taking place and the new bonding in a deterritorialized Hong Konger identity.  The power of song would have a role to play.
Denise Ho: Becoming the Song is available for streaming on Amazon Prime Video, Youtube, Vudu, Apple TV, and Google Play. 
---
Written by Victoria Isabel Quintanilla for the Yale Council on East Asian Studies.