Germany announces conclusive proof Navalny was poisoned with Novichok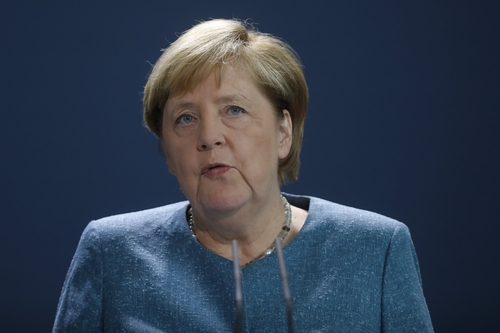 Update: Yesterday, the Charité hospital in Berlin announced Navalny "has been removed from his medically-induced coma and is being weaned off mechanical ventilation. He is responding to verbal stimuli. It remains too early to gauge the potential long-term effects of his severe poisoning."
---
Yesterday, the German government announced what many had suspected from the outset—that Alexei Navalny, the foremost opposition activist and perpetual thorn in the side of Russian President Vladimir Putin, was poisoned. It said tests conducted in a German military lab had found "unequivocal proof of a chemical nerve agent from the Novichok group." Novichok means "newcomer" in Russian and is the name of a family of chemical weapons developed by the U.S.S.R. in the Cold War era and banned by the 1997 Chemical Weapons Convention. A nerve agent from that group was used by a team of three officers of Russia's GRU (military intelligence) to poison Sergei Skripal, a former GRU officer who had been a double agent for the British Secret Intelligence Service (MI6), and his daughter in Salisbury, England in March 2018.   
On August 20, Navalny became violently ill on a flight to Moscow from Tomsk, where he had been campaigning in advance of the September 11-13 local elections. After an emergency landing in Omsk, he was hospitalized, put in a medically-induced coma and put on a ventilator. His aides immediately claimed he had been poisoned, probably by something put in the tea he drank in the Tomsk airport earlier that morning before leaving. But the Omsk doctors rejected that assertion, claiming his condition might have been caused by a "metabolic disorder" caused by low blood sugar. They also rejected the pleas for him to be transferred to a hospital where he could be properly diagnosed and treated. Finally, after German Chancellor Angela Merkel and French President Emmanuel Macron urged Putin to allow Navalny to be transferred to a hospital that could diagnose the problem and treat him, German doctors were allowed to examine him and, after determining that he could be transported, arrange for him to be flown on August 22 to Berlin, where he could be treated at the Charité research hospital.
On August 24, Merkel and Foreign Minister Heiko Maas announced that, "according to the Charité medical team, clinical findings indicate that Alexei Navalny was poisoned." They called upon Russia's authorities to "fully investigate this act as a matter of urgency—and to do so in a completely transparent way. Those responsible must be identified and brought to justice." Yesterday, on the basis of the military lab's tests, Merkel amplified the earlier statement. She said, "It is shocking information about the attempted murder by poison of one of Russia's leading opposition members. This means that Alexei Navalny is a victim of a crime. It was an attempt to silence him. I condemn this in the strongest possible terms on behalf of the entire German government. There are very serious questions now that only the Russian government can answer and must answer….The crime against Alexei Navalny was aimed at the fundamental values and rights for which we stand."   
Foreign Minister Maas summoned the Russian ambassador to discuss the situation. Germany intends to discuss the matter in both the EU and NATO and plans to notify the Organization for the Prohibition of Chemical Weapons of the lab findings. European Commission President Ursula von der Leyen said, "I was informed by Chancellor Merkel that Russian opposition leader Navalny was attacked with a nerve agent, in his own country. This is a despicable and cowardly act—once again. Perpetrators need to be brought to justice." Josep Borrell, the EU's High Representative for Foreign Affairs and Security Policy, likewise condemned the poisoning: "Mr. Navalny was poisoned by a military-grade chemical nerve agent… developed by the Soviet Union and later, Russia." He added that the use of chemical weapons was "completely unacceptable and a breach of international law." In a similar tone, Jens Stoltenberg, the secretary general of NATO, said, "Germany announced Alexei Navalny was victim of a Novichok attack. I utterly condemn the use of a military-grade nerve agent, which makes it even more urgent that Russia conducts full and transparent investigation." Many national leaders voiced similar views; British Prime Minister Boris Johnson said, "It's outrageous that a chemical weapon was used against Alexei Navalny. We have seen first-hand the deadly consequences of Novichok in the UK. The Russian government must now explain what happened to Mr Navalny—we will work with international partners to ensure justice is done."
Navalny has many enemies in Russia, ranging from the corrupt local and regional officials his anti-corruption campaign was targeting, to the local, regional, and national leaders of the dominant United Russia party that is being challenged in local elections this month and faces national elections for the Duma next year, to the oligarchs and plutocrats who own Russia, to those who control the security services, and to Putin himself, who may fear that, if not stopped now, Navalny will have the same success against him in the 2024 or 2030 presidential election that Svetlana Tikhanovskaya had against Aleksandr Litvinenko in Belarus on August 9. We may never know who actually administered the poison. But the weapon used in the attack is a very large fingerprint that identifies those who authorized and arranged the poisoning; only those in control of the security services could authorize the use of Novichok for such a purpose.
Navalny, who was a Yale World Fellow in 2010, remains in critical condition in a coma and on a ventilator in an intensive care unit. Following yesterday's announcement, the Charité hospital said his life is no longer in danger, which is very good news for all his friends and admirers around the world. But it did say his recovery is likely to be lengthy and it is still too early to gauge the long-term effects of the poisoning.
---
David R. Cameron is a professor of political science and the director of the MacMillan Center's Program in European Union Studies.