Korean Female Buddhist Monastic Jeongmok Shares Wisdom at Yale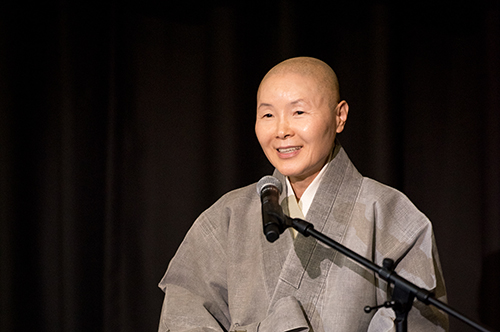 On October 26, Venerable Jeongmok visited Yale to give a lecture "Crossing the River of Fear: Lessons from the Life of a Korean Buddhist Female Monk," hosted by the Council on East Asian Studies (CEAS) at Yale. Currently the abbess of Jeonggak Temple in Seoul, this "spiritual mentor who transcends religion to bring life wisdom to people" is one of the most influential senior Buddhist nuns in South Korea today.
"Koreans commonly believe that female Buddhist monastics live in secluded mountain monasteries, are minimally engaged with society, and therefore wield limited influence. Venerable Jeongmok challenges these preconceptions," said Hwansoo Kim, associate professor of Korean religion and culture and chair of the Council on East Asian Studies.
Jeongmok is especially well known for her groundbreaking efforts in Buddhist media; in 1990, she began hosting a daily radio program with the Buddhist Broadcasting System, and she went on to found Una Broadcasting, a YouTube channel with nearly a quarter million subscribers.
A former Buddhist chaplain at Seoul National University Hospital, Jeongmok founded the Small Love Foundation, which provides financial support to families of children battling cancer.
In her talk at the Yale MacMillan Center, Jeongmok recounted pivotal stories from her life that have led her to the wisdom she lives by. "When something bad happens, there's no point in asking why this happened," she said. "It's important not to dwell on why things happened, but to focus your attention on what steps you need to take next." During the following Q&A, Jeongmok answered questions from Yale students interested in Buddhism or seeking advice for loved ones who are struggling.
Jeongmok is the author of several bestselling books, including Though the Snail Is Slow, It is Never Late (달팽이가 느려도 늦지 않다), The More You Empty Yourself, the More You Have (비울수록 가득하네), and Even Flowers Have to Make an Effort to Bloom (꽃도 꽃피우기 위해 애를 쓴다).