Former President of Lithuania to Give Lecture at Yale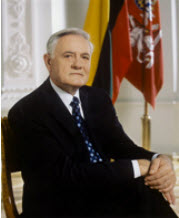 March 30, 2010. New Haven, CT - Valdas Adamkus, the immediate past President of Lithuania, will speak on The Role of Education in Post-Soviet Political Development at 4:30 p.m. on Wednesday, April 14, in Luce Hall Auditorium. The lecture, sponsored by the Baltic Studies Initiative at the MacMillan Center, also serves to honor the generous Yale alumni who have enabled the launch of the Baltic Studies Initiative, most recently Joseph Kazickas GRD '51, whose principal gift matches earlier gifts by Juris Padegs YC '54, Law '57 and Kristaps Keggi YC '55, Med '59.
Valdas Adamkus emigrated from Lithuania to the US with his family in the late 1940s, and earned engineering degrees at the Illinois Institute of Technology. Adamkus joined the United States Environmental Protection Agency. Adamkus served as Midwest regional administrator of the EPA for sixteen years, and retired in 1997 after twenty-nine years of service. Shortly after leaving the EPA, he moved back to Lithuania. Adamkus was elected President of Lithuania in 1998, serving until 2003, when he ran for re-election, but was defeated by Rolandas Paksas. After Paksas was impeached and removed from office, Adamkus ran for the presidency again and was re-elected, serving from 2004-2009. He has one of the highest approval ratings among politicians in Lithuania. Adamkus chose not to run for re-election during the Lithuanian presidential election of 2009 and was succeeded by Dalia Grybauskaite. 
Contact Information:
Marilyn Wilkes
The Whitney and Betty MacMillan Center for International and Area Studies at Yale
(203) 432-3413