After European Council takes stock of negotiation, Johnson says UK planning for no deal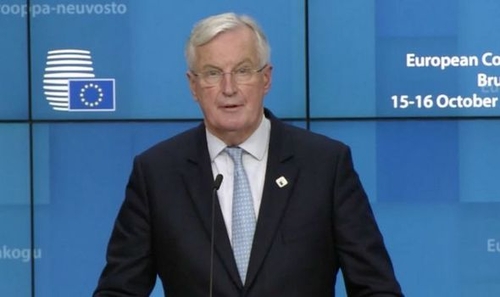 Yesterday, the leaders of the 27 member states of the EU, meeting as the European Council, took stock of the stalled negotiation between the EU and the UK in regard to their future relationship after the UK leaves the EU's single market and customs union at midnight on December 31. Both sides understand that if an agreement on the future relationship is to take effect as of Jan. 1, 2021, it must be concluded in the very near future, ideally by the end of October and, at the latest, by early-to-mid November. If there's no agreement, the UK will trade with the member states of the EU as it does with other countries with which it has no agreement—under WTO rules.
At yesterday's meeting, the leaders reaffirmed the EU's determination to have "as close as possible a partnership with the UK…while respecting the previously agreed European Council guidelines… in particular as regards the level playing field, governance and fisheries." With that in mind, the European Council invited the EU's chief negotiator, Michel Barnier, to continue negotiations in the coming weeks and called on the UK "to make the necessary moves to make an agreement possible." Mindful of the provisions in the UK's Internal Market Bill that would allow ministers to disregard provisions in the Protocol on Ireland/Northern Ireland contained in the EU-UK Withdrawal Agreement, the leaders also recalled that the Agreement and its Protocols "must be fully and timely implemented."
David Frost, the UK's chief negotiator, expressed both surprise and disappointment at the European Council's conclusions, tweeting "Disappointed by the #EUCO conclusions on UK/EU negotiations. Surprised EU is no longer committed to working "intensively" to reach a future partnership as agreed with @vonderleyen [European Commission President Ursula von der Leyen] on 3 October. Also surprised by suggestion that to get an agreement all future moves must come from the UK. It's an unusual approach to conducting a negotiation. Boris Johnson will set out UK reactions and approach tomorrow in the light of his statement of 7 September."
In his September 7 statement, Johnson said, "There needs to be an agreement with our European friends by the time of the European Council on 15 October if it's going to be in force by the end of the year. So there is no sense in thinking about timelines that go beyond that point. If we can't agree by then, then I do not see that there will be a free trade agreement between us, and we should both accept that and move on….There is still an agreement to be had. We will continue to work hard in September to achieve it. It is one based on our reasonable proposal for a standard free trade agreement like the one the EU has agreed with Canada and so many others. Even at this late stage, if the EU are ready to rethink their current positions and agree this I will be delighted. But we cannot and will not compromise on the fundamentals of what it means to be an independent country to get it."
Speaking to the press after yesterday's meeting, Barnier, while noting the differences that remain in regard to the key issues of a level playing field, governance, and fisheries, made it clear he favored an intensification of the negotiation over the next two weeks and had already proposed that to Frost: "We are absolutely determined to reach a fair deal with the UK. We will do everything we can, but not at any price….My team, our team, and I will continue intensive discussions over the coming weeks. Our positions have been crystal clear from day one of this negotiation. If you want access to our market of 450 million people, there must be a level playing field. There must be free and fair competition….There has been genuine, good progress on a number of topics, as I explained at the European Council, and on which we see the prospect of agreement. We are almost in a position to draw up and flesh out this agreement. There are a number of topics over which there remain not only question marks, but also points of difference. And there are three topics on which the gap is too wide at present. In order for me to say now, at this moment, that there is a prospect of a deal, we need to change the outlook to head towards a deal, and for that we need progress. Progress on the question of the 'level playing field', on the question of governance, and also on the question of fisheries. There is therefore a lot of work, a lot of work for us to focus on. From tomorrow, I will be in discussions with my counterpart David Frost. As of Monday, we will be in London for the week—and if necessary the weekend as well—and the following week in Brussels. This is in any case what I have proposed to the British team, that we hold intensive negotiations in the little time that we have left in order to reach the agreement we hope for by the end of October."
In a televised address today, Johnson, while not terminating the negotiation, made it clear that, in light of the conclusions reached at yesterday's European Council meeting, the UK will proceed on the assumption there will be no agreement with the EU that will take effect at midnight on Dec. 31. Invoking once again the EU's Comprehensive Economic and Trade Agreement (CETA) with Canada as a model, he said, "from the outset we were totally clear that we wanted nothing more complicated than a Canada-style relationship, based on friendship and free trade." But, he said, "to judge by the latest EU summit in Brussels that won't work for our EU partners. They want the continued ability to control our legislative freedom, our fisheries, in a way that is obviously unacceptable to an independent country. And since we have only ten weeks until the end of the transition period on January 1, I have to make a judgment about the likely outcome and to get us all ready. And given that they have refused to negotiate seriously for much of the last few months, and given that this summit appears explicitly to rule out a Canada-style deal, I have concluded that we should get ready for January 1 with arrangements that are more like Australia's based on simple principles of global free trade." (In 2008, the EU and Australia concluded the EU-Australia Partnership Framework that, among other things, facilitates trade in industrial goods and services. However, Australia doesn't have a trade agreement with the EU and trades with it under normal WTO rules. In June 2018, the EU and Australia began negotiating a Free Trade Agreement.)
Johnson went on to say, "of course we are willing to discuss the practicalities with our friends where a lot of progress has already been made, by the way, on such issues as social security, and aviation, nuclear cooperation and so on. But for whatever reason it is clear from the summit that after 45 years of membership they are not willing—unless there is some fundamental change of approach—to offer this country the same terms as Canada. And so with high hearts and complete confidence we will prepare to embrace the alternative…as an independent free trading nation, controlling our own borders, our fisheries, and setting our own laws."
This morning Frost spoke with Barnier and told him that, since there's no new basis for discussion, he shouldn't come to London Monday. They agreed to talk again early next week. Johnson's spokesman later said, "There is only any point in Michel Barnier coming to London next week if he's prepared to address all the issues on the basis of a legal text in an accelerated way, without the UK required to make all the moves….If not, there's no point in coming. Trade talks are over. The EU have effectively ended them by saying they do not want to change their negotiating position. There was accordingly no basis for negotiations in London as of Monday."
Is the negotiation over? No. But has the likelihood the EU and UK will conclude, in time for it to take effect at midnight on December 31, an agreement creating the "ambitious, wide-ranging, balanced and comprehensive economic partnership encompassing a Free Trade Agreement as well as wider sectoral cooperation" envisioned in last October's "Political Declaration setting out the framework for the future relationship" increased over the past two days? Certainly not. And so, although both sides realize that, especially at a time when their economies are being battered by the dramatic second surge of the Covid pandemic, it would be in their economic self-interest to conclude an agreement, the odds that will happen are lower today than they were two days ago.
---
David R. Cameron is a professor of political science and director of the European Union Studies Program at the MacMillan Center.