After Geneva, U.S.-Russia talks on Ukraine move to NATO, then to the OSCE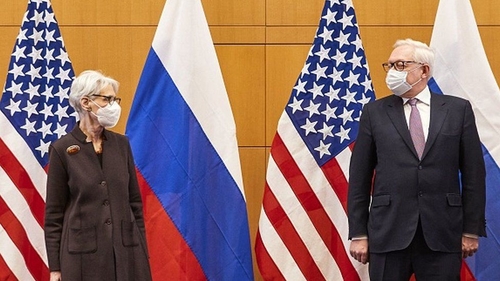 On Sunday evening, U.S. Deputy Secretary of State Wendy R. Sherman and Russian Deputy Foreign Minister Sergey Ryabkov had a working dinner in Geneva in the first of several discussions this week focused on resolving the crisis created by the recent buildup of more than 100,000 Russian troops, accompanied by tanks, artillery and other equipment near the Ukraine border. Yesterday, Sherman and Ryabkov and their teams met for almost eight hours, with the U.S. side continuing to insist that Russia de-escalate the crisis by pulling back its troops and agreeing to respect Ukraine's territorial integrity and sovereignty and the Russian side continuing to insist that the U.S. and NATO provide it with the security guarantees it proposed last month – most notably, by agreeing that NATO will not pursue further eastward enlargement and Ukraine will never become a member of NATO. 
The State Department readout of Sherman's working dinner with Ryabkov on Sunday stated they had discussed the bilateral topics they would address in the meeting on Monday, which formally was an extraordinary meeting of the Strategic Stability Dialogue that Presidents Biden and Putin agreed to set up at their summit in Geneva last June. Sherman emphasized the U.S. commitment to the principles of sovereignty, territorial integrity, and the right of sovereign states to choose their own alliances. She affirmed the U.S. would welcome genuine progress through diplomacy but made it clear that, while the U.S. would discuss some bilateral issues with Russia, it wouldn't discuss European security without its European allies and partners participating in the discussion. For that reason, she said discussion of some subjects would be reserved for the NATO-Russia Council meeting in Brussels tomorrow and the Organization for Security and Co-operation in Europe (OSCE) Permanent Council meeting in Vienna on Thursday. As he left the working dinner Sunday evening, Ryabkov said, "We plunged into the substance of the forthcoming issues, but the talks are going to be difficult. They cannot be easy. They will be business-like. I think we won't waste our time tomorrow."
After yesterday's eight-hour meeting, the State Department arranged a special briefing via teleconference with Sherman. She described the discussion as "frank and forthright."  She said the U.S. went to the meeting "prepared to hear Russia's security concerns and to share our own. We came as well with a number of ideas where our two countries could take reciprocal actions that would be in our security interests and improve strategic stability" and offered to meet again soon to discuss the bilateral issues in more detail. Among the preliminary ideas the U.S. raised in the meeting were missile placement, the future of certain missile systems in Europe along the lines of the now-defunct INF [the 1987 Intermediate-Range Nuclear Forces Treaty that expired in 2019], reciprocal limits on the size and scope of military exercises and improving transparency about those exercises, and options for arms control including both strategic and so-called non-strategic nuclear weapons. But she made it very clear that the security guarantee Russia wants—prohibition of Ukraine's membership in NATO—is off the table: "We were firm, however, in pushing back on security proposals that are simply non-starters for the U.S. We will not allow anyone to slam closed NATO's "Open Door" policy, which has always been central to the NATO Alliance. We will not forgo bilateral cooperation with sovereign states that wish to work with the U.S. And we will not make decisions about Ukraine without Ukraine, about Europe without Europe, or about NATO without NATO." Nevertheless, she said, "the U.S. is committed to meaningful, reciprocal dialogue with Russia….We are ready to continue discussions on the bilateral issues we identified today as soon as practical, and we made that clear….We have been clear, and we were clear today, that the U.S. would welcome genuine progress through diplomacy. We also reiterated that we believe genuine progress can only take place in a climate of de-escalation, not escalation. If Russia stays at the table and takes concrete steps to de-escalate tensions, we believe we can achieve progress. But if Russia walks away from the diplomatic path, it may well be quite apparent that they were never serious about pursuing diplomacy at all. We've made it clear that if Russia further invades Ukraine, there will be significant costs and consequences well beyond what they faced in 2014. President Biden said as much to President Putin in their recent call [December 30], and I said that plainly to Deputy Foreign Minister Ryabkov as well. Russia has a stark choice to make."
In a press conference after the meeting, Ryabkov said, "The negotiations around Russia's security proposal were very difficult, long, very professional, deep and concrete, without any attempts to gloss over or avoid any difficult points. We were left with the impression that the American side was taking Russia's proposal very seriously." But he also said the Russian demands—that Ukraine never becomes a member of NATO, that NATO not expand further eastward, and that all offensive weapons be removed from the states in eastern Europe—remain unchanged: "For us, it's absolutely mandatory to make sure that Ukraine never—never ever—becomes a member of NATO." He also made it clear that Russia wants an absolutely unambiguous commitment that Ukraine won't become a member: "We are fed up with loose talk, half-promises, misinterpretation, different forms of negotiations behind closed doors….We need ironclad, waterproof, bulletproof, legally binding guarantees—not assurances, not safeguards, guarantees—of never ever becoming a member of NATO, with all the words 'never ever becoming member of NATO'."
Today Sherman met in Brussels with NATO Secretary General Jens Stoltenberg and briefed both the North Atlantic Council and the EU's Political and Security Committee on yesterday's meeting. Tomorrow the NATO-Russia Council will meet in Brussels, and on Thursday the Permanent Council of the OSCE will meet in Vienna. And as Sherman mentioned in her press briefing, at the end of the week, informed by those discussions, the U.S. and Russian governments will discuss the way forward. We will see whether, as she put it, Russia "stays at the table and takes concrete steps to de-escalate tensions" or "walks away from the diplomatic path."
---
David R. Cameron is a professor emeritus and lecturer in political science and the former director of the MacMillan Center's Program in European Union Studies.