Artist Stephanie García's "Ofrenda" Offers a Nuanced Perspective During Hispanic Heritage Month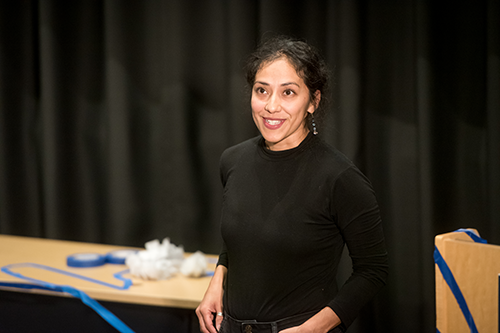 The Council on Latin American and Iberian Studies (CLAIS) kicked off Hispanic Heritage Month with "Ofrenda," a performance art piece by award winning Mexican artist and choreographer Stephanie García, on September 20. In "Ofrenda," García explained, "the terrible is sublimated through a communal offering" to honor all people who have been murdered or have disappeared because of "violence, femicide, racial crimes, migration, and other injustices."
While listening to an audio compilation that included news reporting on recent and ongoing crimes against vulnerable populations—including indigenous women and migrant children—the audience watched García perform a modern dance piece, holding a white tissue-paper flower in her mouth. After dancing, García began to simulate a crime scene in the auditorium, first lying down on the floor or slumping against a wall, and then tracing her outline in blue painter's tape. At times, her tape lines crossed over seated audience members. García closed her performance with an "offering" of white tissue paper flowers tossed to the crowd. Afterward, García took questions from the audience about the piece, her motivations, and the evolution of her work.
"We wanted to offer an experience that reflected the richness and quality of Hispanic art and, at the same time, exemplified the multidisciplinary perspective we are encouraging, which weaves together the academy, art, and activism," said CLAIS Chair and Professor of Anthropology Claudia Valeggia. "'Ofrenda' encapsulated this spirit, and I am glad the audience received it with respect and awe."
Cosponsored by La Casa Cultural at Yale, García's visit included conversations with Yale students and with members of CLAIS' community partner organizations, including Hispanic youth interested in the arts, and senior Hispanic residents of the city's Fair Haven neighborhood.