CLAIS Chair Claudia Valeggia Recognized for Championing Diversity in STEM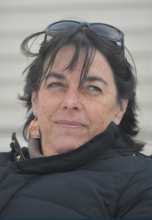 CLAIS's Chair, Claudia Valeggia, is well known around our office for making everyone feel welcome and respected.
We were delighted to see this unique quality recognized by the broader university community. Along with three other faculty, Valeggia was recognized with this year's Faculty of Arts and Sciences (FAS) Dean's Award for Inclusion and Belonging. FAS Dean Tamar Szabó Gendler recently announced the honor.
"For each nominee, a commitment to diversity, equity, and inclusion shapes their work as teachers, mentors, and researchers and has had a meaningful impact on our community," Gendler said in announcing the winners. "This year's recipients are exceptional university citizens who have made our community more equitable and welcoming."
The article by Yale News highlights the reasons Valeggia was selected for the award.
"Claudia Valeggia is a groundbreaking scholar of the interactions between human reproduction and its ecological and cultural context. [She] is a consummate curator of community in the classroom. Her pedagogy enables her students to thrive and centers the voices and perspectives of marginalized persons. She has also fostered community for faculty across Yale in her role leading the Council for Latin American and Iberian Studies."
Valeggia, speaking of her own dedication to fostering a diverse and inclusive community, said that "full learning is only possible when all voices are heard."
"I am a full believer in the collective construction of knowledge, both as a pedagogical approach and as a leadership style," she said. "Our shared knowledge helps us advance in research, learning, and in attaining whatever goals we set for our projects. This horizontal-based approach encourages a sense of belonging that is crucial for sharing and owning whatever it is you are doing."