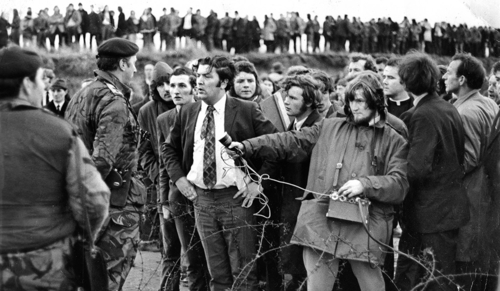 Maurice Fitzpatrick, director of "In the Name of Peace: John Hume in America," will discuss the film the film following its screening on Wednesday, March 27, during his visit to campus as a Poynter Fellow. The screening will begin at 6:30 pm in the auditorum of the Whitney Humanities Center, 53 Wall St.
The film, which was released in 2017, examines the role the United States had in informing John Hume's notion of peace. Hume, a politician from Northern Ireland, was a co-recipient of the 1998 Nobel Prize for his role in bringing peace to his country. The film includes interviews with Bill Clinton, Jimmy Carter, John Major, and Tony Blair, among others.
In 2014, Fitzpatrick directed "Translations Revisited," a review of Brian Friel's 1980 play "Translations." Fitzpatrick was responding to the fact that the play was initially staged in 1980 in Derry amidst great chaos. It was re-staged in 2013 during what has been called a "great peace."
In 2009, Fitzpatrick also helped write and produce "The Boys of St. Columb's," a documentary that tracked the lives of important Irish figures — including Hume — who graduated from the same school in Derry, Ireland.
Fitzpatrick, who attended Trinity College in Dublin, is a recipient of the Monbukagakusho Scholarship. He has lectured at Keio University in Tokyo, Bonn University in Germany, and the University of Cologne.
The Poynter Fellowship in Journalism was established by Nelson Poynter, who received his master's degree in 1927 from Yale. The fellowship brings to campus distinguished reporters, editors and others who have made important contributions to the media. Among recent Poynter fellows are Larry Fink, Rosanne Cash, and Teju Cole.