The Gilder Lehrman Center for the Study of Slavery, Resistance, and Abolition receives Connecticut Humanities Award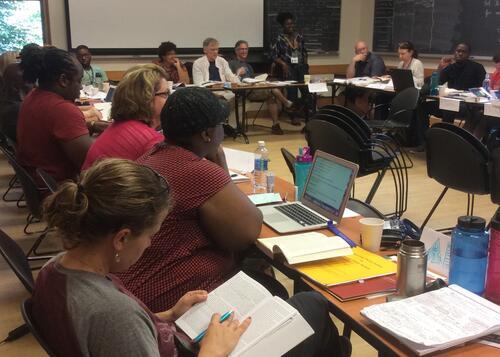 The Gilder Lehrman Center for the Study of Slavery, Resistance, and Abolition (GLC) at the MacMillan Center at Yale University recently received a planning grant from Connecticut Humanities for their proposal "Planning a Composite Curriculum: A Professional Development Program in African American and Latino Studies." This project will support Connecticut's recent "Act Concerning the Inclusion of Black and Latino Studies in the Public School Curriculum" through the development of professional development workshops, resources, and an online newsletter to introduce Connecticut teachers to Black and Latino historical content and to the practice of anti-racist teaching and learning. During the course of this project, the GLC will work with historians, teachers, students, and community members across the State.
"The Gilder Lehrman Center is honored to have been awarded a CT Humanities Planning Grant," said Michelle Zacks, Associate Director. "This award will allow GLC to work with academic experts as well as teachers and students throughout the state to develop professional development resources designed to help Connecticut teachers address the vital mandate of treating African American and Latinx history as absolutely central to the history of the United States. As the nation engages in a long overdue reckoning with the persistent legacies of slavery and structural racism, we are grateful to CT Humanities for their support in helping the GLC and our partners undertake this important endeavor." 
About Connecticut Humanities
Connecticut Humanities (CTH) is an independent, nonprofit affiliate of the National Endowment for the Humanities. CTH connects people to the humanities through grants, partnerships and collaborative programs. CTH projects, administration, and program development are supported by state and federal matching funds, community foundations and gifts from private sources. 
Read the  Connecticut Humanities announcement.