International Book Prizes Awarded
Friday, September 30, 2016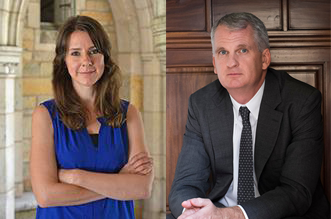 The Whitney and Betty MacMillan Center for International and Area Studies has awarded book prizes to two Yale faculty members.
Emily Erikson, an associate professor in the Department of Sociology, was awarded the Gaddis Smith International Book Prize for best first book for "Between Monopoly and Free Trade: The English East India Company, 1600-1757" (Princeton University Press, 2014). Timothy Snyder, the Bird White Housum Professor of History, received the Gustav Ranis International Book Prize for best book for "Black Earth: The Holocaust as History and Warning"(Penguin Random House, 2015).
Established in 2004 to recognize the distinguished legacy of two former directors of the MacMillan Center, the prizes are awarded for books on international topics written by current Yale faculty members. Award recipients receive a research appointment at the MacMillan Center and a $10,000 research award over two years.
"Between Monopoly and Free Trade" highlights the dynamic potential of social networks in the early modern era. The English East India Company was one of the most powerful and enduring companies in history. Erikson's book locates the source of that success in the innovative policy by which the company's court of directors granted employees the right to pursue their own commercial interests while in the firm's employ.
Though the company held a monopoly on English overseas trade to Asia, the court of directors extended the right to trade in Asia to its employees, creating an unusual situation in which employees worked both for themselves and for the company as overseas merchants. Erikson shows that by building on the company's organizational infrastructure and the sophisticated commercial institutions of the markets of the East, employees constructed a cohesive internal network of peer communications that directed English trading ships during their voyages. This network integrated company operations, encouraged innovation, and increased the company's flexibility, adaptability, and responsiveness to local circumstance, she argues.
In "Black Earth," Snyder presents a new explanation of the great atrocity of the 20th century, and reveals the risks humanity faces this century. Based on new sources from Eastern Europe and forgotten testimonies from Jewish survivors, "Black Earth" recounts the mass murder of the Jews as an event that is still close, more comprehensible than people would like to think, and thus all the more terrifying.
By overlooking the lessons of the Holocaust, Snyder concludes, humanity has misunderstood modernity and endangered the future. The early 21st century is coming to resemble the early 20th, as growing preoccupations with food and water accompany ideological challenges to global order. Snyder writes that the world today is closer to Hitler's than most like to admit, and saving it requires seeing the Holocaust as it was — and today's society as it is.
The Whitney and Betty MacMillan Center for International and Area Studies at Yale is the University's focal point for promoting teaching and research on all aspects of international affairs, societies, and cultures around the world.