Latin American Interdisciplinary Gender Studies Network Celebrates Second Year in Mexico City and New Haven
Wednesday, December 15, 2021
Collaboration across disciplinary and national borders has become more difficult than ever during the COVID-19 pandemic, posing barriers to collective organizing and research efforts on important social issues like gender inequality. In spite of these barriers, the Latin American Interdisciplinary Gender Network (LAIGN) was able to hold its second annual conference this past Friday, December 3. The network, originally launched in 2020, is a joint initiative of the Council on Latin American and Iberian Studies and the Center for Research and Studies of Gender (CIEG) at the Universidad Nacional Autónoma de México. 
This year's conference took place predominantly on Zoom, but students and scholars met in person at the universities' respective campuses in New Haven and Mexico City to watch and discuss the presentations together. In addition to these in-person attendees and the conference's speakers and panelists, over 1,000 people live-streamed the conference via Facebook with the help of live English-language interpretation.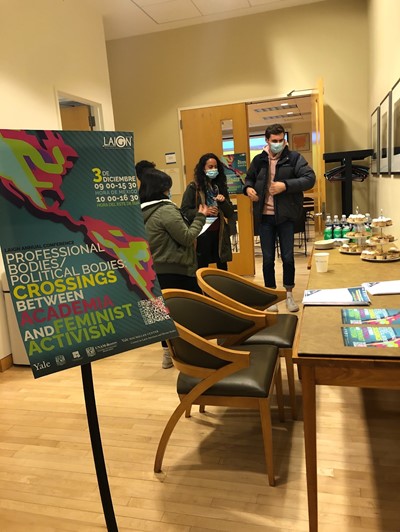 Luce Hall, 3 December 2021
The conference kicked off with welcoming remarks by Amneris Chaparro Martínez, CIEG's Head of Academic Affairs, who introduced this year's theme: "Professional Bodies/Political Bodies: Crossings Between Academia and Feminist Activism." As Chaparro Martínez explained, academic work on gender and sexuality is inherently intertwined with feminist organizing, but these connections are often obscured by a "border" between the worlds of academia and activism. The purpose of this year's conference was to explore how the professional body of researchers and teachers in gender studies can reach across this border and turn its own epistemic findings into political transformations.
Following this welcome, CLAIS Chair Claudia Valeggia introduced the conference's keynote speaker, Marisa Belausteguigoitia, who directs CIEG. Belausteguigoitia's presentation was titled "Escuelas y Secuelas de la Rabia: Signos y Ritmo del Coraje Especulativo Feminista" and focused on exchanges between the worlds of academia and activism in the context of political artwork about gender-based violence.
Belausteguigoitia's main case study was a work of protest-art in which a group of women painted their feet to leave "huellas anónimas" on a long piece of fabric. After leaving a multicolored scattering of footprints, participants in this protest cut out parts of the cloth and resewed them into highly personal pieces that told stories of self-love and resistance in the face of violence. Just as the activity's participants transformed their physical steps into artwork that was both narrative and political, Belausteguigoitia emphasized that teachers and activists must also take steps to create a shared "feminist imagination" of a world without gender-based violence. 
After Belausteguigoitia's presentation and an extensive Q&A, the conference featured two panel discussions, each examining gender studies through the lens of a particular academic discipline. The first panel, "Science and Gender Studies," was moderated by Lucía Gabriela Ciccia and Helena López of CIEG-UNAM. The four panelists discussed a variety of topics, including the underrepresentation of women in mathematics and the necessity of incorporating gender into biomedical research.  
Sandra Lorenzano and Moira Fradinger led the second panel, which focused on Humanistic Knowledge and Gender Studies. Among the four presentations on the panel was Lorenzano's own discussion of Indigenous women's use of poetry as a way to connect to their histories, especially in the face of imperial attempts to erase Indigenous languages and cultures.
As the conference neared its close, representatives from each of LAIGN's six working groups offered brief updates on their ongoing work. These working groups explore gender studies' relationship to a range of other fields, including education, human rights, science, and the arts.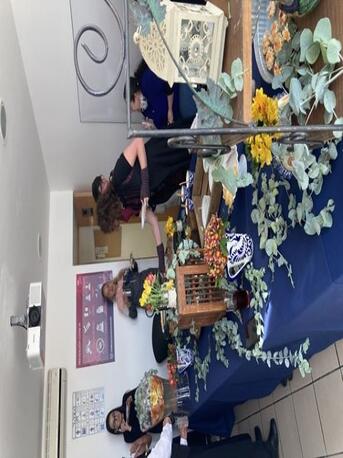 CIEG-UNAM, 3 December 2021
Finally, Moira Fradinger returned to offer concluding remarks and her reflections on the day's events. Reiterating the conference's main themes, Fradinger encouraged attendees to continue to pursue new understandings of gender and gender inequality in their respective fields. Much like the shared work that went into making LAIGN's conference a reality, transnational research and activism against gender inequality must be collaborative in order to make gender justice a reality across the United States and Latin America. Along with this call to action, Fradinger expressed her optimism about LAIGN's future and her hope that next year's conference will take place in person. 
If you are interested in keeping up with LAIGN's work or attending future events, you can follow LAIGN and CLAIS on Twitter or sign up for CLAIS' newsletter. You can also view a video recording of the conference on CIEG-UNAM's Facebook page.
By Charlie Mayock-Bradley