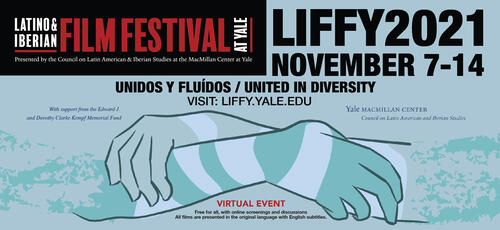 Tuesday, October 26, 2021
The Latino and Iberian Film Festival at Yale (LIFFY) will take place November 7 through 14, and all the films are now searchable on the virtual catalogue.
For the last 12 years, the Council of Latin American and Iberian Studies (CLAIS) at the MacMillan Center has brought the cinema of Latin America and the Iberian Peninsula to New Haven. Margherita Tortora, a senior lector II in the Department of Spanish and Portuguese, has steered the festival since those early days.
Claudia Valeggia, Chair of CLAIS and professor of Anthropology, thanked Margherita Tortora for her dedication in bringing extraordinary films and filmmakers to Yale and the local community. 
"Margherita's love for film and the cultures of the Spanish and Portuguese-speaking world have made LIFFY a permanent and integral part of CLAIS and Latin American Studies at Yale. I am delighted at this year's films which showcase the extraordinary diversity and talent of Latin America and Iberian cinema."
According to Tortora, "The festival began as a collaboration between The New England Festival of Ibero-American Cinema (NEFIAC), a private non-profit organization, and CLAIS at Yale's MacMillan Center, along with Brown University in Providence, Rhode Island. That festival ran from 2010 through 2014, and I organized the Yale section."
"In 2015, with the support of CLAIS, we created the Latino and Iberian Film Festival at Yale (LIFFY), now in its seventh year. We present films for our wonderfully diverse community in the Greater New Haven area. With the online component initiated last year, we also reach audiences beyond our region."
The festival will be mostly online again this year, with the welcome addition of two in-person screenings for the Yale community.  The virtual platform makes it easy to search, view, and select films as well as engage directly with filmmakers. Some films are only available for a limited time, while others are available for up to 24 hours after their screening.
This year's theme is "Unidos y fluidos"—United in Diversity. As Tortora says, the films being screened are a testament to that slogan.
"The films selected for LIFFY 2021 present a broad range of filmmakers and characters from 18 different Spanish or Portuguese speaking countries, as well as Latinos in the USA. They are independent films made with heart and reflect a great variety of circumstances unique to each area, but also have overarching universal themes with which we can all relate. Our audience will become familiar with characters often depicted as "others" or "outsiders'' and realize that we all share a common human bond. I believe that familiarity and comprehension will conquer xenophobia."
LIFFY opens on Sunday, November 7, with a program of shorts from Spain and Brazil. Opening night will recreate the experience of a live film festival. After the shorts program, the festival will transition to a feature screening of a short and feature-length film by Argentinian director Claudio Perrín, followed by a virtual Q & A with the director and actors.
LIFFY will also host two panel discussions as part of the festival. On Monday, November 8 at 1pm, "Mujeres de la Industria Cinematográfica" (in Spanish) and "Meet the Filmmakers of LIFFY 2021" on Wednesday, November 10 at 1:00pm. There will also be three Q&As with filmmakers for the opening and closing night films, and an awards ceremony featuring the expert jury along with the filmmakers on November 14th.
Members of the Yale community will be able to enjoy a LIFFY tradition with an in-person screening on Tuesday, November 9, at the historic auditorium of 53 Wall Street (formerly the Whitney Humanities Center). The feature film is the joint Ecuadorian and Argentinian film San Telmo Tapes by filmmaker Leandro Bartoletti. 
Yale attendees can join each other again on the evening of Thursday, November 11, in one of the new screening rooms in the Humanities Quadrangle for a short and feature film presentation by two Chilean filmmakers. The night will feature a short by Belén Abarza and the feature-length Los Fuertes by Omar Zúñiga. A 2015 film by Abarza, San Cristóbal, won a Teddy Award at the Berlin International Film Festival, and Los Fuertes follows up on the two lovestruck male leads in this coming-of-age film that is already drawing significant buzz.
The final day of the festival on Sunday, November 14, offers numerous short films from Cuba, which can be viewed at your leisure, and the world premiere of Pandemos, a film about a gay Cuban filmmaker who moves to San Francisco during the COVID-19 pandemic by filmmaker Lázaro González.
The festival closes with the Uruguayan feature film Carmen Vidal: Mujer detective and the Peruvian documentary, Mujer de soldado, by Patricia Wiesse Risso. The documentary depicts the struggle for justice of young rural women who were sexually assaulted during the internal armed conflict in Peru in the 1980s. All are welcome to attend the Awards Ceremony on the last day of the festival.
"LIFFY 2021 is provided free to all of our audience thanks to a grant from the Kempf Foundation, support from CLAIS at the MacMillan Center, and the generosity of our filmmakers, producers, and distribution companies," said Tortora. "We invite all to enjoy LIFFY 2021! I hope to see you at the movies!"