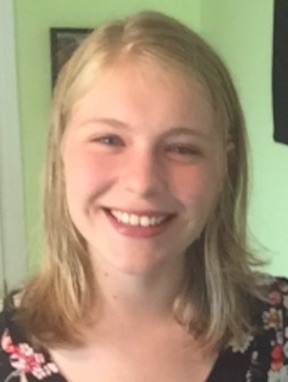 Thursday, September 13, 2018
Lillian Moore-Eissenberg is the winner of the MacMillan Center's competitive William J. Foltz Journalism Award. Her submission, "Hidden Neighbors: For trafficked domestic workers, exploitation can be a family affair," appeared in the Yale Daily News Magazine on April 18, 2018.
Lily, a junior and Massachusetts native, majors in English with a focus on nonfiction writing. She is editor-in-chief of The Politic, a Yale campus magazine, and she won first and third place for nonfiction in last year's Wallace Prize contest. As a sophomore, she founded an illustrated philosophy section of The Politic, called "The Sophist." Lily is looking forward to more reporting adventures this school year.  
"I wrote 'Hidden Neighbors' in Sarah Stillman's writing workshop, 'Reporting and Crafting the Long-form Narrative,'" said Lily. "I knew I wanted to write about Eva's story because it took place, shockingly, in my tiny hometown. I remember hearing about the court case when I was in middle school without grasping what it meant. Returning to that story years later led me to the larger issue of the human trafficking of domestic workers, which in turn led me to Letícia, a Brazilian woman who was trafficked to Boston by her in-laws."
The Journalism Award is an annual prize named for William J. Foltz (1936-2013), the H. J. Heinz Professor Emeritus of African Studies and Political Science. Articles entered must relate to some aspect of international affairs, area studies, or foreign relations, and treat the subject with originality, be well-written, and help the audience gain greater knowledge and understanding of international issues.
For more information about the William J. Foltz Journalism Award, visit the website.