Little progress in latest round in EU-UK negotiation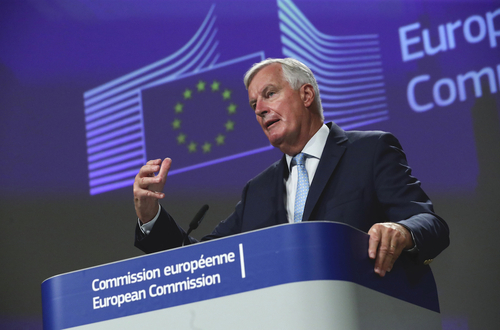 Last week, the EU and UK negotiating teams, led by Michel Barnier and David Frost, met in Brussels for the seventh round in the negotiation of their future relationship. The UK will leave the EU's Single Market and Customs Union, with or without an agreement in regard to their future relationship, on December 31. Both sides realize that, in order to transform any agreement into legal text, with technical annexes, that could be scrutinized by the lawyers, translated into the 23 official languages of the EU, approved by the EU's Council and Parliament, and ratified by the UK and the 27 EU member states so it could take effect on January 1, 2021, the agreement will have to be completed by the end of October at the latest. That being the case, there was some reason to think that last week's round would make some progress toward an agreement. But as Barnier and Frost made clear in their statements Friday at the conclusion of the round, that didn't happen.
Last week's round was organized, as the previous ones have been, with ten separate issue-focused negotiating "tables" that allowed as many as a half-dozen separate issues to be negotiated simultaneously. As a result, in two full days of negotiation last Wednesday and Thursday, eight hours were focused on the level playing field/open and fair competition issue, eight hours on fisheries, eight hours on law enforcement and judicial cooperation, six hours on trade in goods, six hours on trade in services and investment, and four hours each on energy, horizontal arrangements and governance, mobility and social security coordination, participation in union programs and transport.
In his statement, Barnier said, "the British negotiators didn't show any interest in making progress on the subjects that are of fundamental importance for the EU." And, he said, contrary to the EU's flexibility in taking into account and working with the "red lines" British Prime Minister Boris Johnson set out regarding the role of the European Court of Justice, the legislative autonomy of the UK, and EU access to UK territorial waters for fishing, there had been "no reciprocal effort by the UK to understand the EU's priorities"—specifically, the need for the trade agreement to be accompanied by "standards of fair competition and economic and commercial fair play;" the need for an "equitable and durable long-term solution" for European fishermen and women; and the need to realize the EU won't allow any "cherry-picking" or "accès à la carte" to the Single Market since the UK refuses to accept the rules and obligations of that market.
About the level playing field issue, Barnier said bluntly, "The need for a Level Playing Field is not going to go away…It is a non-negotiable pre-condition to grant access to our market of 450 million citizens, given the UK's geographic proximity and the intensity of our economic exchanges. We are asking for nothing more, but nothing less, than what Prime Minister Johnson committed to in our joint Political Declaration last October, together with the 27 EU leaders." And beyond the level playing field issue, he noted "there are still many other areas where progress is needed. For example: Fisheries, where we have made no progress whatsoever on the issues that matter. Governance, where we are still far from agreeing on the essential issue of dispute settlement. Law enforcement, where we still struggle to agree on the necessary guarantees to protect citizens' fundamental rights and personal data. Mobility and social security coordination, where our positions also remain far apart."
Barnier did acknowledge that progress was made on technical issues in some of the ten "tables"—most notably, in regard to energy cooperation, participation in Union programs, and anti-money laundering. But, he said, "too often this week, it felt as if we were going backwards more than forwards. Given the short time left, what I said in London in July remains true: Today, at this stage, an agreement between the UK and the EU seems unlikely. I simply do not understand why we are wasting valuable time." He also noted that he and the EU remain vigilant in regard to the implementation of the Withdrawal Agreement and, specifically, to the UK doing what it is legally obliged to do in regard to implementing the Protocol on Ireland and Northern Ireland.
In his statement following the conclusion of the round, Frost said "agreement is still possible, and it is still our goal, but it is clear that it will not be easy to achieve….We have had useful discussions this week but there has been little progress….The EU is still insisting not only that we must accept continuity with EU state aid and fisheries policy, but also that this must be agreed before any further substantive work can be done in any other area of the negotiation, including on legal texts. This makes it unnecessarily difficult to make progress.…Time is short for both sides.…We are seeking a relationship which ensures we regain sovereign control of our own laws, borders, and waters, and centred upon a trading relationship based on an FTA like those the EU has concluded with a range of other international partners, together with practical arrangements for cooperation in areas such as aviation, scientific programmes, and law enforcement.  When the EU accepts this reality in all areas of the negotiation, it will be much easier to make progress."
Under the amended terms of reference for the negotiation, there will now be, as necessary, meetings of the chief negotiators and their teams, and specialized sessions, this week in London and next week in Brussels, after which there will be another full round of negotiation in London the week of Sept. 7. That will be followed, as necessary, by meetings of the chief negotiators and their teams, and specialized sessions, in Brussels the week of Sept. 14 and London the week of Sept. 21, after which there will be another full round of negotiation in Brussels the week of Sept. 28. And then it will be October.
Barnier concluded his statement Friday with these words: "To conclude with a well-known phrase: The clock is ticking." He's right; it's ticking—and time is running out for an agreement.
---
David R. Cameron is a professor of political science and director of the European Union Studies Program at the MacMillan Center.