MacMillan Center's Council on African Studies responds to the killing of George Floyd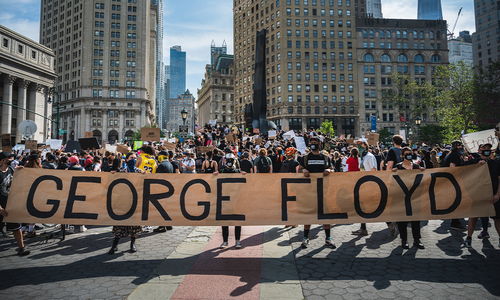 The Council on African Studies community at Yale strongly condemns the murder of George Floyd by members of the Minneapolis Police Department, which followed the recent shooting deaths of Ahmaud Arbery and Breonna Taylor. A mission of the Council is to foster an academic environment where faculty and students seek novel approaches to the study of African societies, systems, its people, and the diaspora. We sponsor programs that seek to promote dialogue and understanding of the complex and intertwined history of the African and African-American experiences. As a campus community, we also acknowledge and regularly confront Yale's history with human slavery and subjugation.
As an interfaculty council, we should not remain silent when the oppressive systems denounced in Yale classrooms, lecture halls and conferences are exposed in contemporary society, too often resulting in loss of life. Many of these systems disproportionately marginalize and deeply affect the daily lives of black people in America. It is against this backdrop that we call out the violence that we have witnessed, which we attribute to pernicious, systemic and institutionalized racism. We join Yale President Peter Salovey  and colleagues at Yale Medical School , Yale School of Management and Yale Divinity School in decrying these actions.
The Council on African Studies affirms the core values of equity and justice for all. Especially in this difficult time, we wish to acknowledge and stand with our faculty, staff and students of color, for whom these recent events may evoke fear and unimaginable anxiety.