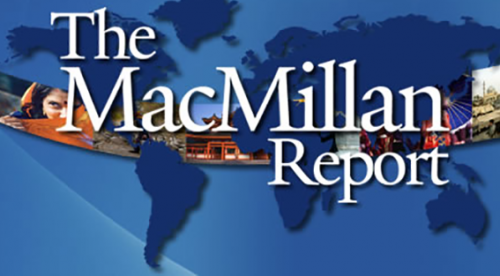 Thursday, October 25, 2018
The MacMillan Report, an online show that showcases Yale faculty in international and areas studies and their research and visiting scholars in a one-on-one interview format, celebrates its 10th anniversary this month. Sponsored by the Whitney and Betty MacMillan Center for International and Area Studies at Yale, the show aired its first interviews in October 2008. Since then, the show has featured more than 225 interviews. Shows can be viewed here.
"When I look back on the 10 years since we launched the show, the breadth and depth of Yale faculty's research around the globe really stands out," said Marilyn Wilkes, Executive Producer and Host. "Thousands of people around the world watch The MacMillan Report and during the 15 or 20 minutes of our interviews, they are able to learn about so many different topics from our truly exceptional faculty and visiting scholars."
Highlights over the years include interviews with Robert Shiller, Sterling Professor of Economics and 2013 Nobel Laureate; former United Nations Secretary-General Ban Ki-moon, and democratic politician Howard Dean.
Shows for the fall semester include interviews with Abbas Amanat, William Graham Sumner Professor of History; Paris Aslanidis, Lecturer in Hellenic Studies and Political Science; Rohit De, Assistant Professor of History; Bruce Gordon, Titus Street Professor of Ecclesiastical History; Denise Ho, Assistant Professor of History; Marchia Inhorn, William K. Lanman, Jr. Professor of Anthropology and International Affairs; Alice Kaplan, John M. Musser Professor of French; Mushfiq Mobarak, Professor of Economics; Naveena Naqvi, Singh Visiting Fellow; Priyamvada Natarajan, Professor of Astronomy and Physics; Claudia Nunes, Visiting Fellow in the Council on Latin American and Iberian Studies; Thomas Thurston, Director of Education and Public Outreach at the Gilder Lehrman Center for the Study of Slavery, Resistance, and Abolition; Claudia Valeggia, Professor of Anthropology; and Taisu Zhang, Associate Professor of Law.
For the full list of shows, visit The MacMillan Report website.
The Whitney and Betty MacMillan Center for International and Area Studies at Yale is the University's focal point for promoting teaching and research on all aspects of international affairs, societies, and cultures around the world.