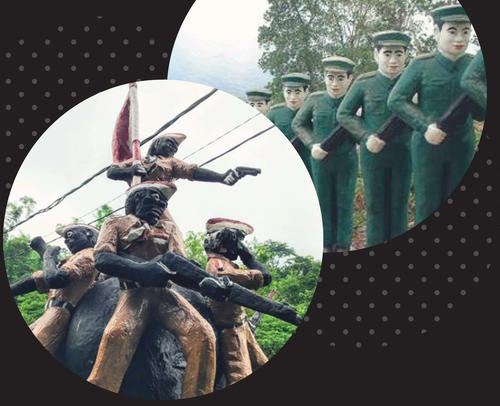 The MacMillan Center's Genocide Studies Program and Council on Southeast Asia Studies hosted a 3-day international conference on November 8-10, entitled "Mass Violence in Southeast Asia Since 1945", that drew 24 scholars and experts from a range of disciplines to discuss the wars, genocides, insurgencies, and political and religious violence that have occurred in Southeast Asia over the latter half of the twentieth century up to the present.  The papers presented drew from research in six countries: Indonesia, Vietnam, Cambodia, Myanmar, Thailand, and the Philippines. The conference was co-chaired by Ben Kiernan, the A. Whitney Griswold Professor of History at Yale, and Eve Zucker, Lecturer of Anthropology at Yale.
On Thursday evening, Geoffrey Robinson, Professor of History at UCLA, opened the conference with a powerful lecture on the violence of 1965-66 in Indonesia. Introduced by Kiernan as "one of the leading authorities on contemporary Indonesia, a reputation earned as a historian, human rights official, and UN officer," Robinson discussed the topic of his most recent book, The Killing Season: A History of Indonesian Massacres, 1965-66. He spoke about one of the "largest, swiftest, but more ignored" instances of twentieth-century mass violence: the massacre of Indonesia's communist party (PKI) members and civilians accused of being its sympathizers by the Indonesian military under General Suharto in the mid-1960s. Robinson outlined three dynamics that account for how and why political disagreements transformed into atrocities in that specific moment, underscoring historical antecedents, army leadership, and powerful foreign states and actors. In highlighting these themes, he emphasized that mass killing is not the natural or inevitable consequence of difference, but rather is the product of specific agent's and institution's decisions and actions–particularly armed forces, police, militia, and revolutionary groups–and the culture, language, and "repertories" of violence they perpetuate. Despite the Indonesian state's continuing unwillingness to directly address the massacre, Robinson finds hope for some form of justice and truth in the country's civil society: "When it comes to truth, justice, and accountability, the most promising avenue is through civil society." Nonetheless he warned that states and academics need to act responsibly: for states this means     opening archives and holding trials, and for academics it means disrupting the silence on such grave matters through scholarship, teaching, creative work, and political involvement. The lecture was followed by a lively question and answer session, and a reception.
Friday's proceedings were arranged around panels organized by country. After a welcome from Zucker and Kiernan, the day began with the Indonesia panel. Benny Widyono, of  the University of Connecticut; John Roosa, University of British Columbia; and Margaret Scott, NYU, centered their talks on the massacres of 1965-66, contextualizing both the local and the international while also placing those violent events in conversation with contemporary twenty-first-century Indonesian politics. The next panel, dedicated to Vietnam, featured Christian Lentz, UNC Chapel Hill; Sophie Quinn-Judge, Temple University; and Hoang Minh Vu, Cornell University.
In the afternoon, Tram Luong of Yale, and Kosal Path, Brooklyn College, discussed Cambodia and the marginalization and persecution of Vietnamese residents in the 1970s. In a second Cambodia panel, William Kwok, Yale,  Daniel Bultmann (Humboldt-University Berlin) and Laura McGrew (international consultant) spoke about the political organization of the Cambodian genocide, Khmer Rouge torture practices, and present day mob violence in Cambodia.. The Myanmar panel featured Mayesha Alam, Yale; Katherine Munyan, formerly of Yale Law School; Azeem Ibrahim, US Army War College; and Elliott Prasse-Freeman, National University of Singapore, all presenting on the contemporary violence faced by the Rohingya in Myanmar. In the following panel on the Philippines, Alfred McCoy, University of Wisconsin-Madison, and Jonathan Ong, UMass Amherst, addressed death squads under Duterte and contemporary online trolling designed to shape public perceptions of state past and present . The final panel focused on Thailand. It featured Duncan McCargo, University of Leeds; Tyrell Haberkorn, University of Wisconsin-Madison; and Puangthong R. Pawakapan of Harvard's Yenching Institute, and discussed impunity, state violence and surveillance..
On Saturday, Alfred McCoy, playing an additional role as rapporteur, provided a thoughtful overview of the previous days' proceedings and discussed the categories, causes, implications, and impacts of the mass violence. The conference concluded with a roundtable.
The Mass Violence in Southeast Asia Since 1945 conference was made possible by the New York Southeast Asia Network, MacMillan Center and the Edward J. and Dorothy Clarke Kempf Memorial Fund, Yale's Genocide Studies Program and Council on Southeast Asia Studies, and the Orville H. Schell, Jr. Center for International Human Rights at Yale Law School.