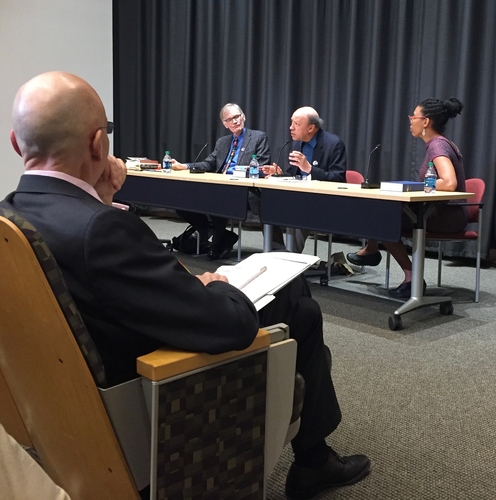 When Frederick Douglass was growing up on a plantation, he discovered an old school reader containing Enlightenment-era speeches and a "how-to" introduction to oratory. On Sunday afternoons, when he and his friends were not working, he would teach them about public speaking, basing his lessons on the tenets set forth in the handbook.
According to Professor David W. Blight—whose biography of Douglass, Frederick Douglass: Prophet of Freedom, was released recently, in 2018—this manual was the most important possession Douglass ever owned while in slavery.
"Douglass seizes literacy," Blight recently told an audience of professors and students in Luce Hall. "And he not only seizes literacy—he weaponizes words."
The panel discussion in Henry R. Luce Hall on April 1 featured Blight, Class of 1954 Professor of American History and Director of the Gilder Lehrman Center for the Study of Slavery, Resistance, and Abolition at the MacMillan Center; Robert Stepto, John M. Schiff Professor of English and Professor of African American Studies and American Studies; and Crystal Feimster, Associate Professor of African American Studies, History, and American Studies, who served as moderator. Ian Shapiro, Sterling Professor of Political Science and Henry R. Luce Director of the center, introduced the event which focused on the life and writings of Frederick Douglass, in part through the lens of Blight's recent biography.  (view discussion)
Blight, who recalled reading Stepto's essays on Douglass while in graduate school, began by describing Douglass's story as one of ascendancy—a characterization put forward by Stepto in his work.
Blight stressed the benefits and difficulties of writing a biography about someone who wrote so extensively about himself. Douglass, he said, "is always imposing the self on us."
"If you're a biographer, never trust anyone who writes three autobiographies," Blight joked.
The conversation centered around the importance of writing to Douglass and his Biblical influences. One of the challenges of writing his biography, Blight said, was in the subtitling: was he really justified in calling Douglass a prophet?
"Prophet is a big word, and you don't throw it around loosely," Blight said. "But Douglass writes and speaks in a language that sometimes just hits you between the eyes with a metaphor…that transmits you somewhere."
Douglass' skill with metaphor has roots in the Hebrew Bible. Throughout his life, he was steeped in the Bible, which became a major theme of Blight's biography.
"What Douglass found in the Old Testament was storytelling and metaphor and ancient authority and power for his claims about this American experiment, which was failing," Blight said. He later commented: "Frederick Douglass was the American Jeremiah." 
If Douglass was indeed a prophet, he prophesied in more ways than one. Professor Feimster asked Professors Blight and Stepto about the stakes of putting words into writing, and about what the written word could accomplish for Douglass that the spoken word could not.
Stepto noted that when Douglass was speaking on the anti-slavery circuit, fellow abolitionists sometimes told him he should try to sound more "like a slave" while speaking in public.
"So he wrote," Stepto said. "At least, that's part of the story."
Print publication was important to Douglass: after publishing his first short-form article, he sent a letter to his editor that ended, approximately, with the line, "Oh, but to write for a book," according to Blight. He went on to write his first autobiography—"the greatest slave narrative," Blight called it—and soon after its publication, he started talking about creating his own newspaper.
In his many writings, Douglass did more than predict.
"Prophet's don't just predict," Blight said, quoting the Jewish philosopher Abraham Heschel: "Prophets, as Heschel says, are human, but they are those who speak or write in one octave higher than most of us can comprehend. They find those words in the right time and place to shatter us."
"A Conversation about Frederick Douglass" is a Morton L. Mandel Public Lecture and was the first joint public program of the American Academy of Arts and Sciences and the Whitney and Betty MacMillan Center for International and Area Studies at Yale. For the past several years, the MacMillan Center has hosted a series of informal research discussions for Academy members organized by the American Academy's New Haven Program Committee. Previous discussions have covered a broad range of topics, including The Practice of Democratic Citizenship, The Evolution of Beauty, and Collateral Crashes and Shakespeare.
---
Written by Lily Moore-Eissenberg, Yale College Class of 2020.