Reinstallation of Yale's African Art Galleries Complete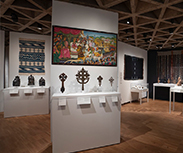 Yale University Art Gallery recently announced the completion of a yearlong reinstallation of a portion of the African art galleries. Breaking from a thematic arrangement of objects, the new displays now focus in on distinct African cultural zones, highlighting masterpieces from the collection by some of the continent's most celebrated artists, alongside new acquisitions and rarely shown works of art in a variety of different media. 
The African art collection comprises nearly 2,000 objects, representing 3,000 years of African history, with masks, figures, utilitarian objects, jewelry, ceramics, and textiles from throughout the continent. Highlights include ritual figures and masks from West and Central Africa, and terracotta antiquities from the Sahel area. 
As part of the new display, a series of mesmerizing photographs of African rock-art sites has been projected onto the convex exterior of the Louis Kahn stairwell, transforming a once-neglected corner of the gallery into a "modernist cave" that brings to life some of Africa's most ancient cultural heritage sites. The projection consists of 40 images taken by Kenyan photographer and rock-art specialist David Coulson, who in the 1980s launched a mission to document this important tradition all over the African continent, from Morocco to South Africa. 
Learn more about the exhibit on the Yale University Art Gallery website here.