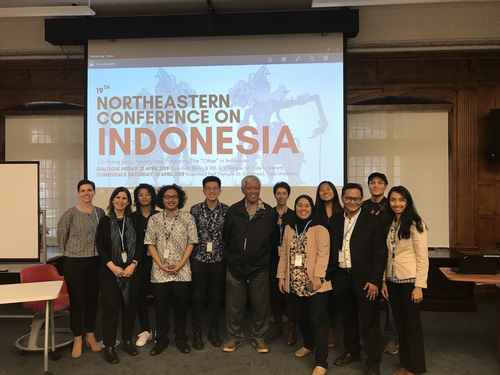 On April 12 and 13, the Yale Indonesia Forum (YIF) held its annual Spring Dialogue and Northeastern Conference on Indonesia at Yale University. With the presidential election happening on April 17, which many commentators consider to be a barometer of Indonesian democracy, YIF invited a diverse array of speakers and presenters to discuss a pertinent topic—discrimination and "Othering" in the country. The event was sponsored by the Council on Southeast Asia Studies.
In 2017, Jakarta governor Basuki Tjahaja Purnama, popularly known as Ahok, was sentenced to prison under Indonesian blasphemy law. The mass mobilization of Islamic organizations against Ahok, an ethnic Chinese Christian, sparked fears that Indonesia's ethnic and social tensions were dangerously resurgent. Indeed, the creation of a distinct Other against whom to direct societal anxieties has taken various forms in Indonesia, including violence against LGBTQ populations, Chinese and Ahmadi Muslims, and alleged leftists. In light of this history, the conference organizers sought to critically examine these issues through interdisciplinary research.
Discussions opened on Friday with Monash University researcher Dr. Jemma Purdey, who provided a broad historical overview of anti-Chinese sentiments from the colonial to the contemporary era. This was followed by an analysis of the political mobilization of labor unions, which often adopt a pragmatic and transactional attitude when choosing electoral coalitions to support, according to Dr. Teri Caraway from the University of Minnesota.
On Saturday, the conference welcomed Bedjo Untung, a survivor of the 1965 genocide in Indonesia. Speaking to a capacity crowd, Mr. Untung shared his experiences as a political prisoner under the Suharto regime and his extensive work on transitional justice.  He urged the United States and other countries to acknowledge their role in enabling the Indonesian army's genocidal campaign.
Saturday's sessions also included four presentations on the various ways in which intolerance can permeate everyday life. Dr. Cobina Gillit (SUNY Purchase College) argued that progressive theater has become the targets of attacks by grassroots "morality police," while Dr. Matthew Cohen presented vivid images of Indonesian shadow puppets that are made to reflect racial and ethnic stereotypes. Muhammad Afdillah (Hartford Seminary) highlighted the role of Islamic organizations in regulating inter-religious relationships, while Tadzkia Nurshafira (Universitas Gadjah Mada, Indonesia) cautioned against the Indonesian state's portrayal of non-entrepreneurial youth as economically less desirable. Nurshafira's arguments in particular resonated with several members of the audience who, as Indonesian millennials, have experienced societal pressure to be entrepreneurial.
Overall, conference participants felt that the discussions were thought-provoking and provided useful examples of the multifaceted ways that "Othering" can occur. Representatives from other schools, including Harvard, Brown, and Cornell were also able to discuss opportunities for collaboration on research on Indonesia.
---
Written by Sharon Handoko, Yale College Class of 2022, and Nicolas Wicaksono, Yale College Class of 2019.