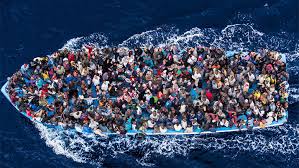 Wednesday, April 17, 2019
The Colloquium on Social Justice, Solidarity, and Forced Migration took place on March 7. It was funded by the Edward J. and Dorothy Clarke Kempf Memorial Fund, and jointly hosted by the MacMillan Center's Program on Refugees, Forced Displacement and Humanitarian Responses, and the Program on Conflict, Resilience & Health. It follows a number of other workshops organized at Yale over the past three years, such as Violence, Intervention, and Agency (Fall 2015), Health and Humanitarian Action: Bridging Gaps between Research and Practice (April 2018), and Forced Migration and Humanitarian Policy (October 2018).  See https://crh.macmillan.yale.edu/workshops.
The Colloquium brought together academics with the objectives of discussing how the themes of religion, law, solidarity and social justice intersect with refugee experiences and mesh with broader socio-political dynamics. Distinguished speakers – Alastair Ager, Erica Bornstein, Mark Eggerman, Louisa Lombard, and Catherine Panter-Brick – reflected in three presentations on challenges and gaps in the ongoing discourse, and shared their critical thinking regarding existing theories. Their insightful presentations were followed by reflections from one discussant, Helena Hansen, and a fruitful discussion that engaged the audience.
Immediately after the Colloquium, individual speakers shared their thoughts and key messages through dialogues with Kaveh Khoshnood. These conversations are made available in the form of podcasts. (Read full colloquium report)