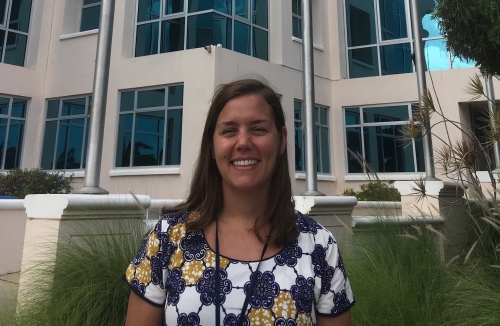 Thanks to funding from the Coca-Cola World Fund at Yale I received from the MacMillan Center, I had the amazing opportunity this summer to work with the United Nations Development Programme (UNDP) in Barbados on climate change mitigation and adaptation activities in the Caribbean region. From a young age, I was deeply interested in development and environmental work performed by agencies within the United Nations and always hoped that I would get a chance to experience such work firsthand. That hope was fulfilled when I secured a summer internship with UNDP Barbados and the Organization of Eastern Caribbean States (OECS) as part of my degree requirements for my Master in Environmental Management at Yale's School of Forestry and Environmental Studies (FES).
While at UNDP Barbados and the OECS, I provided technical support to the Japan-Caribbean Climate Change Partnership (J-CCCP), a project which seeks to advance the process of low-emission risk-resilient development by strengthening the capacity of eight Caribbean countries to invest in climate change mitigation and adaptation technologies. The targeted countries are Belize, Dominica, Grenada, Guyana, Jamaica, Saint Lucia, Suriname and Saint Vincent and the Grenadines. The J-CCCP team were very welcoming and accommodating, allowing me to make substantial technical contributions to the project based on my interests as well as my background in international agricultural development. I had the opportunity to review and edit numerous national-level climate change policy documents, including Nationally Appropriate Mitigation Actions (NAMAs) and National Adaptation Plans (NAPs) for Grenada, Saint Lucia, Suriname, and Saint Vincent and the Grenadines. I also traveled to Saint Vincent to support monitoring of ongoing J-CCCP pilot projects there focused on sustainable agriculture, water management, and climate-resilient infrastructure. 
Outside of my work at UNDP, I explored Barbados and all that it has to offer, from beautiful beaches to caves to a wildlife reserve home to green monkeys and land tortoises. I even snorkeled among green and hawksbill turtles and three shipwrecks full of coral and fish. It was such a wonderful and relaxing environment in which to spend my summer gaining experience in climate change mitigation and adaptation work and I will return to Yale in the fall refreshed and reinvigorated to start my final year at FES.
---
Written by Brittany Williams, Master of Environmental Management 2019, Yale School of Forestry & Environmental Studies.