Studying how infrastructure shapes lives in eastern Guinea, West Africa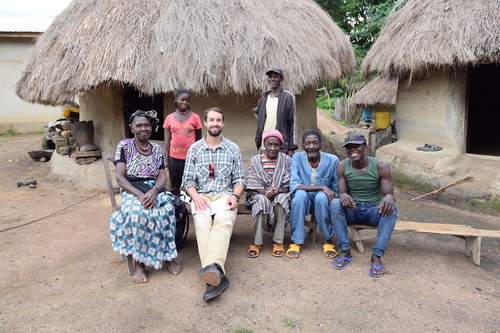 Thanks to the generous support of the MacMillan Center Pre-Dissertation Research Grant and the Council on African Studies' Lindsay Fellowship for Research in Africa I have had the opportunity to spend this summer researching how infrastructure shapes people's lives in eastern Guinea, West Africa.  I spent two years as a Peace Corps Volunteer in Guinea, often traveling along crumbling roads far from the nation's capital.  Roads are paved by the government, but what happens when the roads fall apart and the population is seemingly left to its own devices?  What systems of control and influence form in what appears to be a vacuum of formal authority?  And how does a decidedly bad road shape how people feel about their country?
I chose the national road between the towns of Kankan and Kissidougou in eastern Guinea as the focus of my study for a few reasons.  I already had some contacts in the taxi unions that operate transportation along the road.  I was also drawn to the Kankan/Kissidougou road because it is usually considered to be the worst in the country; I hypothesized that an especially degraded road would inspire stronger opinions.
Approximately every week I have taken public transportation from one town to the other: I arrive at the station, present myself to the Line Chief (Chef de Ligne), and am directed to the next car departing.  These cars are called taxis, though they are unlike New York City cabs: they are station wagons or minibuses that don't leave the station until each seat has been filled by a passenger.  So, I wait for the car to fill up and in the meantime interview people involved with the taxi system: the Line Chief and his assistants, drivers, fellow passengers, etc.
In between traveling between Kankan and Kissidougou I have sought information on transportation in Guinea in the Office of Public Works, the offices of the unions that manage the taxi stations, and the homes of people who live in towns along the road. 
Through my interviews I have also learned some interesting information about the road's history: the 197 kilometers of road between Kankan and Kissidougou were, according to a few sources, paved during an approximately 10 year period between the mid 70s and mid 80s by a somewhat undercover Cuban military force under the command of Guinea's then-president Sekou Touré.  Touré was worried about security in his country, but he didn't want the world to know he was importing a military presence.  Having linked up with the Soviet Union and its allies, he invited the Cubans to take their time doing a few airports across the country, and then the construction of the road between Kankan and Kissidougou, which averaged about 20 kilometers per year.  Since the road was completed in the mid-80s, no major work has been done on it.  
A note on how the road is doing 30+ years later: to say that it is currently very bumpy is an understatement.  Most of the old pavement has either disappeared or turned into what amounts to many speed bumps, plenty sharp enough to pierce a tire.  I've seen sedans get stuck in mud pits and then sink in so deep that they can only be extracted by a good Samaritan with a large vehicle and a retractable cable.  Sometimes semi-trucks break down or get stuck on the road for days, perishable goods spoiling.  A typical taxi trip takes eight or nine hours, though 11 or 12 is not uncommon.  I have come to expect the car to break down at least once. 
So far, my research has shown that understanding how people feel about the Kankan/Kissidougou road, and perhaps any infrastructure, is a glimpse into how they feel about their country in general.  When talking to people about the road, they often use it as evidence to support their political persuasion.  Both sides of the political aisle cite the road to support their point of view: the degraded road reflects the current regime's incompetence or, on the other hand, the two kilometers of road that is currently being paved outside of Kankan is a sign that the government is doing its best, and the current president should be elected again so he can continue paving.
People have fond memories of the Cubans (apparently they invited a lot of local people to their parties) and hope for the future of Guinea is abundant, though not everyone is holding their breath.  As one taxi driver told me when I asked him if he thought he'd see the road get paved again, "Sure, if I live a really long life."  I look forward to getting back to campus and sharing my notes with my thesis advisor, professors, and fellow students to better understand how the Kankan/Kissidougou road, and public works in general, shape national identity in Guinea. 
---
Written by Ethan Timmins-Schiffman, a 2nd year MA student in African Studies.