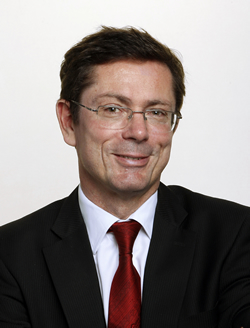 Recent crises around the world, most notably the Syrian conflict, have brought into question the role of the international community in preventing human rights violations and mass atrocity crimes. Amid widespread concerns, the European Studies Council at the MacMillan Center hosted a roundtable with Ivan Simonovic, who was recently appointed the U.N. Secretary General's Special Advisor on Responsibility to Protect. Before his appointment, he served as Assistant U.N. Secretary General for Human Rights. The talk was moderated by Ambassador Yuriy Sergeyev, former Permanent Representative of Ukraine to the U.N. and a Senior Fellow at the MacMillan Center. (view video)
Mr. Simonovic began by reflecting on what Responsibility to Protect means in the United Nations. Responsibility to Protect, or R2P for short, is a doctrine that demands the state to protect its people from mass atrocity crimes. If the state is unable to do so, the international community has a responsibility to assist the state in fulfilling its obligations through diplomatic, humanitarian, and other peaceful means, though the use of force can be utilized with approval from the U.N. Security Council. He noted that R2P only covers a small subset of human rights – namely, genocide, crimes against humanity, war crimes, and ethnic cleansing.
Though R2P does not protect all human rights, human rights can often foreshadow mass atrocities that are covered by R2P. Optimistic about the preventative power of the U.N., Mr. Simonovic said, "some human rights violations are early warning signs, are canaries in the mine… if we see human rights collapsing, let us not wait."
He went on to explain how identifying early warning signs and taking early action can prevent countries from fully deteriorating. As a U.N. envoy in Côte d'Ivoire after the contentious election of 2010, he was faced with the task of stopping war crimes committed by the troops of both candidates, each of whom represented a different geographical and religious faction in the country. President-elect Alassane Outtara, on the same day he had an unexpectedly long meeting with Mr. Simonovic, publically condemned all war crimes and promised to appropriate punishment to all perpetrators. Mr. Simonovic noted, "If he [Outtara] didn't choose that path, if he didn't announce punishment of his own troops, it might have been much bloodier." 
He summarized, "The crucial moment when you exercise your responsibility to protect… is before political and military leaders reach the point of no return." When that point is reached, the leverage to end the conflict "is relatively small because they [the fighters] know that once they put down their arms, what they can expect is prosecution."
Mr. Simonovic juggled optimism and pessimism throughout the discussion. He voiced concerns about how the violation of human rights has now "become a habit." Progress in human rights occurred in the years after the end of the Cold War, but now "trends are negative." He then noted that he is optimistic about the appointment of the new U.N. Secretary General, António Guterres of Portugal, whom he believes will take the right direction towards prioritizing prevention.
At the end of Mr. Simonovic's talk questions were taken from the audience. One dealt with how the recent U.S. election will affect human rights around the world and the Responsibility to Protect doctrine. In response, Mr. Simonovic suggested that Trump was not an isolated phenomenon. A problem in both developing and developed countries is "a real genuine fear of population, of changes, of diversity."
Regarding why the U.N. has not heavily criticized Turkey's inhumane treatment of refugees, Mr. Simonovic explained that the U.N. wants to avoid energizing far-right movements in Europe, which may grow under increased flows of refugees from Turkey. He added that he disagrees with this logic because it is "short-sighted."
Another question asked about reform in the structure of the Security Council, to which he responded by declaring that the U.N. "has been born with a genetic defect." The defect is the provision in the charter that requires two-thirds of all member states, as well as the Security Council, to change it. Regarding the likelihood of reform, he had one word: "Impossible!"
In answering the final question regarding the Syrian conflict, "frankly," Mr. Simonovic began, "I am ashamed to speak about Syria." He then described horrific scenes unfolding on the ground while recognizing that so many people "will not understand, simply will not understand." As to whether the U.N. will have a role, he believes maybe, but only after Syria "bleeds out." He said, "I am pessimistic about Syria… the issue of Syria will not be resolved."
---
Written by Julia Ding, Yale College Class of 2019.