COVID-19 and its effect on the migrant crisis in Lebanon and Greece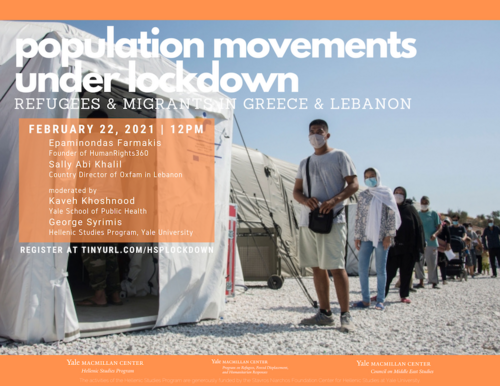 On February 22, the Hellenic Studies Program hosted a talk on "Population Movements Under Lockdown: Refugees and Migrants in Greece and Lebanon." Kaveh Khoshnood from the Yale School of Public Health and George Syrimis, Director of the Yale Hellenic Studies Program moderated the discussion. They introduced Epaminondas Farmakis, the founder of HumanRights360 and Sally Abi Khalil, the Country Director of Oxfam in Lebanon. They discussed how COVID-19 has effected the migrant crisis in Lebanon and Greece. Cosponsors for this lecture include the MacMillan Center's Program on Refugees, Forced Displacement, and Humanitarian Responses, and the Council on Middle East Studies.  (View Lecture)
Abi Khalil began the conversation by explaining the context within which the Syrian and Lebanese refugees have been experiencing COVID. The pandemic came at a time when Lebanon was already in the midst of crisis—an economic crash that caused the currency to lose 80% of its value, a political uprising in October 2019, and an explosion in Beirut in August 2020 that left over 300,000 people homeless. All the while, the Lebanese government has continued to place movement restrictions on refugees, particularly Syrian refugees, who Abi Khalil considers Lebanon's most vulnerable population. She mentioned also the Palestinian refugees in Lebanon, another extremely vulnerable group experiencing severe poverty and very limited access to livelihood and opportunities. Refugees are living in a melting pot of crisis and disaster, she explained. The lockdowns compounded on top of the dire economic situation and extreme poverty has made life nearly impossible. Because of COVID, it has been a challenge to supply refugee camps with even basic services.
In response to the demographic burden on Greece, Farmakis explained that refugees now count at  .01% of Greece's population because Greece has adopted the Hungarian model for dealing with refugees—forcing them to suffer. Greece has adopted this brutal model in the hopes that if refugees suffer enough in Greece, they will be deterred from traveling there. He remarked on the unbelievable cruelty of this: that Europe believes de-incentivizing escape to be an acceptable way to treat people who have been forced to abandon their homes because of war and climate disaster.
Abi Khalil added that this de-incentivising is also a problem in Lebanon. There is a precedent for it, she later explained, because of how poorly Palestinian refugees were treated. Lebanon refused to integrate Palestinian refugees into society, and now they have done the same with Syrian refugees. The government hopes to make life so unlivable that the refugees will return to the unsafe countries from which they came.
Khoshnood brought up the issue of why refugees with cancer and other health problems have returned to Syria for treatment. Refugees have been unable to receive healthcare in Lebanon, particularly now that hospitals are so crowded and mass evictions are occurring across the country. The situation is so dire, Abi Khalil explained, that many refugees say that they would rather die in their own country of something like COVID than die displaced and starving in Lebanon. 
Syrimis turned the conversation towards human rights violations, in particular xenophobic social and political resistance from the extreme right. The panelists agreed that thankfully technology has provided a positive change because it allows these violations of human rights to be known. Surveillance, videos, and photos can all now prove that these violations are occurring. Unfortunately, there is still a lack of political willingness to intervene.
The discussion also addressed health problems that women in particular are facing. Abi Khalil talked about the spike in gender-based violence in the refugee community. Lockdowns have increased stress and mental health issues, which often correlates to a spike in intimate partner violence. The trends are worrying. Because of COVID, many of the safe spaces for survivors of domestic abuse and gender-based violence are inaccessible.
As the humanitarian health specialist Khoshnood turned the attention to the way Lebanon was distributing vaccines to Syrian refugees. Abi Khalil explained that vaccines began for healthcare workers and people over 75 this past week thanks to a loan from the World Bank. Lebanon is also a part of the COVAX framework, so more vaccines are expected to arrive. Eligibility for the vaccine is ostensibly for anyone living on Lebanese territory, so in principle, refugees and migrant workers over the age of 75 should be able to get vaccinated. It's too early to tell whether these guidelines will be respected in practice. The logistics of vaccine distribution are a whole other question: would vaccines be brought to refugee camps or would refugees be expected to go and seek them out? Abi Khalil believes that NGOs will play a significant role in providing vaccines to refugees and in encouraging them not to be fearful about receiving vaccines. The Greek response to COVID, Farmakis argued, was similar to that of Lebanon. The country is in a very strict lockdown and the vaccine is arriving centrally from the EU. Only about .5% of the population have been vaccinated at this point.
At the end of the talk, there was a special visit from Yannis Mameletzis, a Yale affiliate who is a consultant for WHO. He spoke briefly about vaccine distribution and answered questions in the chat about testing and vaccine access in refugee camps in Greece. "For the moment there is no inclusion of refugees in the groups to be vaccinated," he wrote. "Post pandemic here is going to be a huge financial pressure for all to find employment, especially refugees and vulnerable groups."