Eduardo Fernandez-Duque receives John P. McGovern Award Lecture in the Behavioral Sciences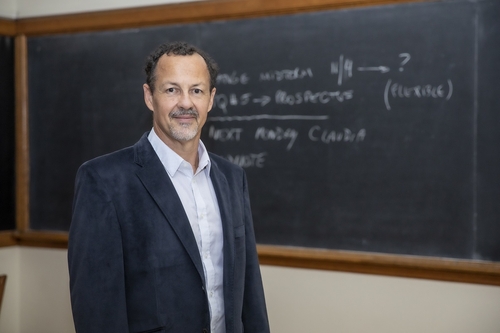 Wednesday, December 2, 2020
Eduardo Fernandez-Duque, Professor of Anthropology, has received the John P. McGovern Award Lecture in the Behavioral Sciences, which is given by the American Association for the Advancement of Science (AAAS). First delivered in 1990, the award honors outstanding behavioral scientists from around the world. The lecture was endowed by the John P. McGovern Foundation to enable scholars to learn and explore the accomplishments and challenges of the behavioral sciences. Dr. McGovern was an internationally recognized physician, scientist, scholar, educator, and humanitarian.
Eduardo Fernandez-Duque is a cofounder of Fundación ECO, a not-for-profit organization promoting education in northern Argentina, a corresponding member of the Argentine Council for Science and Technology (CONICET), and an Invited Professor of the Universidad Nacional de Formosa. Born in Argentina, Fernandez-Duque completed his first degree in biology at the University of Buenos Aires before receiving his PhD in animal behavior at the University of California, Davis. He was a postdoctoral fellow at Harvard University, the Smithsonian Institution, the Zoological Society of San Diego and a faculty member at the University of Pennsylvania. His research program, which bridges the fields of evolutionary anthropology, psychology and primatology, focuses on examining the behavioral, physiological, and ecological correlates of male-female relationships, pair-bonding, and parental care. Fernandez-Duque conducts research on three types of monogamous primates (titis, sakis and owl monkeys) that are studied at field sites at the Tiputini Biodiversity Station in the Ecuadorian Amazon, the ranch Estancia Guayolec in Formosa, Argentina and primate facilities in the US. Over the years, he has contributed to the training of more than 300 students from Argentina, the U.S. and 13 other countries. Additionally, Fernandez-Duque has received many accolades, including the "Premio Raíces," awarded in 2017 by the Argentine National Ministry of Science and Technology to recognize his contributions to the development of science and technology through international cooperation.
For more information about the award, please visit the AAAS website.