Professors Cécile Fromont and Didac Queralt awarded 2023 MacMillan Center International Book Prizes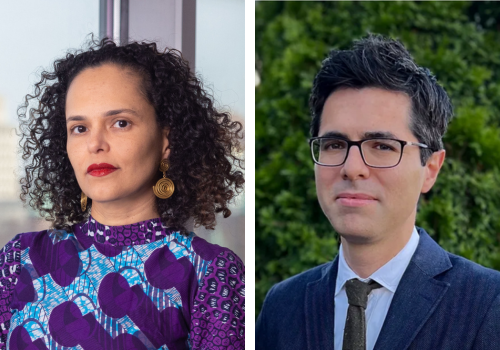 Cécile Fromont, Professor, History of Art, and Didac Queralt, Assistant Professor, Political Science, have been awarded the 2023 international book prizes by the Whitney and Betty MacMillan Center for International and Area Studies at Yale University.
Cécile Fromont received the 2023 Gustav Ranis International Book Prize for best book for Images on a Mission in Early Modern Kongo and Angola (Penn State University Press). The prize committee described Fromont's book as "a remarkable combination of art, history, [and] cross-cultural studies" that is "extraordinary—both broad in themes and foci, and deep in level of analyses of the art and documents and their significance." The committee commended her book as "provid[ing] a critical lens from which to view the beauty and sovereignty of African cultures and their contact with Europeans," marked by "breakthrough analyses and perspectives on two interacting cultures."
Didac Queralt received the 2023 Gaddis Smith International Book Prize for best first book by a Yale ladder faculty member for Pawned States: State Building in the Era of International Finance (Princeton University Press). The prize committee noted that "Queralt's smartly argued and deeply researched characterization of [the cross-national lending] system is exquisite." The committee's overall assessment was that "[t]his book is a marvel of detail as well as theory and measurement that offers takeaway sketches of policymaking in, among other places, Siam, Ethiopia, Chile, Mexico, Argentina, Japan, China, and the Ottoman Empire."
Established in 2004 to recognize the distinguished legacy of two former directors of the MacMillan Center, the prizes are awarded for books on international topics written by current members of the Yale faculty. Award recipients receive a research appointment at the MacMillan Center and a $5,000 research award.
Citations for the winning books follow:
Images on a Mission in Early Modern Kongo and Angola (Penn State University Press)
Early modern central Africa comes to life in an extraordinary atlas of vivid watercolors and drawings that Italian Capuchin Franciscans, veterans of Kongo and Angola missions, composed between 1650 and 1750 for the training of future missionaries. These "practical guides" present the intricacies of the natural, social, and religious environment of seventeenth- and eighteenth-century west-central Africa and outline the primarily visual catechization methods the friars devised for the region. Images on a Mission in Early Modern Kongo and Angola brings this overlooked visual corpus to public and scholarly attention.
This beautifully illustrated book includes full-color reproductions of all the images in the atlas, in conjunction with rarely seen related material gathered from collections and archives around the world. Taking a bold new approach to the study of early modern global interactions, art historian Cécile Fromont demonstrates how visual creations such as the Capuchin vignettes, though European in form and crafstmanship, emerged not from a single perspective but rather from cross-cultural interaction. Fromont models a fresh way to think about images created across cultures, highlighting the formative role that cultural encounter itself played in their conception, execution, and modes of operation.
Centering Africa and Africans, and with ramifications on four continents, Fromont's decolonial history profoundly transforms our understanding of the early modern world. It will be of substantial interest to specialists in early modern studies, art history, and religion.
Pawned States: State Building in the Era of International Finance (Princeton University Press)
In the nineteenth century, many developing countries turned to the credit houses of Europe for sovereign loans to balance their books and weather major fiscal shocks such as war. This reliance on external public finance offered emerging nations endless opportunities to overcome barriers to growth, but it also enabled rulers to bypass critical stages in institution building and political development. Pawned States reveals how easy access to foreign lending at early stages of state building has led to chronic fiscal instability and weakened state capacity in the developing world.
Drawing on a wealth of original data to document the rise of cheap overseas credit between 1816 and 1913, Didac Queralt shows how countries in the global periphery obtained these loans by agreeing to "extreme conditionality," which empowered international investors to take control of local revenue sources in cases of default, and how foreclosure eroded a country's tax base and caused lasting fiscal disequilibrium. Queralt goes on to combine quantitative analysis of tax performance between 1816 and 2005 with qualitative historical analysis in Latin America, Asia, Africa, and the Middle East, illustrating how overreliance on external capital by local leaders distorts their incentives to expand tax capacity, articulate power-sharing institutions, and strengthen bureaucratic apparatus.
Panoramic in scope, Pawned States sheds needed light on how early and easy access to external finance pushes developing nations into trajectories characterized by fragile fiscal institutions and autocratic politics.
For more information about the MacMillan Center and its International Book Prizes, visit its website.
Cécile Fromont's writing and teaching focus on the visual, material, and religious culture of Africa and Latin America with a special emphasis on the early modern period (ca 1500-1800), on the Portuguese-speaking Atlantic World, and on the slave trade.
Didac Queralt studies the origins of fiscal capacity and democratic institutions from three different angles: war, trade, and international finance. In addition to public finance, he is interested in attitudinal persistence, including gender norms and church-state conflict.