Rwandan President Kagame Speaks at Yale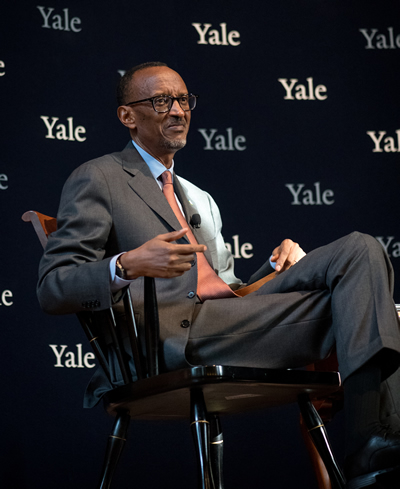 From April to July 1994, Rwanda was embroiled in genocide. Nearly one million people died during the Hutu-lead campaign against the Tutsis. The genocide came to an end when the Rwandan Patriotic Front, led by Paul Kagame, defeated government forces and secured the countryside.
On September 20 Paul Kagame, the now President of Rwanda, came to Yale to give the keynote address for the MacMillan Center's Coca-Cola World Fund Lecture. (video)
President Kagame's visit was timely. Currently a dozen Yale University faculty members have ongoing projects in Rwanda, and six students from Rwanda study at Yale. Since the genocide ended, Rwanda has been a fruitful area of study and research for political scientists, public health experts, and forestry specialists alike.
At the beginning of the lecture, President Kagame applauded Yale's interest in his country and opened his speech by proclaiming that "it is the special privilege of friends to speak openly to each other." And throughout his remarks, President Kagame spoke bluntly and critically, choosing to address what is wrong with the international political community and suggesting how it can be fixed.
He described global affairs as an authoritative sphere instead of a collaborative one. Historically powerful countries, like the United States, continue to act in their own interest without meaningful consultation with other nations.
"That some can decide without others is a source of tension," said President Kagame. "It is not right, and it doesn't work."
He highlighted the differences between the United States and Rwanda to illustrate his point. Whereas the United States is large and requires impersonal mechanisms to ensure democracy, Rwanda is small and demands a face-to-face relationship between its citizens and leaders. President Kagame emphasized that the policies that work for the United State probably do not work for Rwanda.
"No one holds a monopoly on wisdom," he advised.
This culture of major powers deciding the fate of smaller countries is particularly problematic to African nations. Africa has been a hub of exploitation and misunderstanding for centuries, and President Kagame warns that false impressions of the continent still prevail.
"When it comes to Africa, there is a great deal of continuity with certain negative assumptions widely shared across government, media, and academia." he declared. "Perceptions often loom larger than facts, and continued engagement is conditional on acknowledging erroneous perceptions as true even when everyone agrees they are not."
President Kagame confessed that even Western leaders remain biased against Africans and seldom see issues from an African perspective. He recalled a moment from 1995 – a year after the genocide in Rwanda came to a close – when Western countries wanted Rwanda to hold democratic elections as a prerequisite for international aid.
"I said elections by whom? For whom?" President Kagame recounted. "We had close to three million people outside the country and others internally displaced. We needed to bring these people back first. We needed to create stability in the country."
Although President Kagame lamented the way relations with Africa, and Rwanda especially, were handled, he expressed hope that a new generation of diplomats would shed the biases of the past.
At the end of his speech, he looked towards the young members of the audience and advised, "Get to know the world directly. Don't just sign an online petition and assume that is the end. To read the world and to make it better you first have to understand it. Be as humble as you are curious."
Paul Kagame, President of the Republic of Rwanda, gave the annual Coca-Cola World Fund Lecture at Yale on Tuesday, September 20.