Is water the key to peace between Palestine and Israel?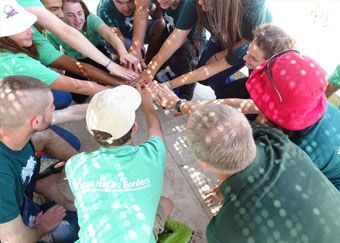 The conflict between Palestine and Israel seems at times completely intractable. However, Gidon Bromberg is convinced that, not only can progress toward peace be made, it can be mutually beneficial for all parties involved. The key to healing division is the one necessity they all share in common: water. 
Bromberg is the co-founder and Israeli co-director of EcoPeace Middle East, a twenty-five year old NGO which seeks to contribute to peace by uniting Palestine, Israel, and Jordan in protecting the environment. On November 12 he was at the MacMillan Center to give the Coca-Cola World Fund at Yale Lecture on the topic of "Can innovation on water issues be a game changer in the Arab/Israeli conflict?"  (view lecture)
The Middle East is one of the most water insecure regions in the world. The Jordan River, which is shared by five countries, is the largest freshwater body in the area. Ninety-five percent of it, however, has disappeared in the conflict. Bromberg displayed photos of the Jordan as it is today: a muddy stream is all that remains of what had once been a mighty waterway. 
"Half of humanity sees it as holy, but that hasn't saved it from demise," said Bromberg. 
The approach to peace talks between Israel and Palestine has been an "all or nothing" paradigm, with neither side willing to make concessions. Bromberg believes that water and the dangers of its misuse present an opportunity to break that paradigm and work toward a final status solution. 
Israel is a world leader in water conservation and has made huge strides in desalination and the treatment of wastewater for reuse. Close to 90 percent of sewage water in Israel is repurposed for agriculture; in contrast, the United States uses perhaps two percent. Reusing such a large percent of water frees the rest for other applications. In this way, innovation has "expanded the pie" of accessible water. However, there still hasn't been any significant alteration in water allocation. Palestine only receives about 25 percent of shared water, which means that every home must have a tank to store it in. Bethlehem in the summertime receives a water delivery once every two or three weeks, while some villages receive water every three months. No one dies of thirst, Bromberg said, because one can get water if one is able to pay, but the bill could total to 20-30 percent of a household's income. 
Lack of water and proper sanitation means untreated sewage flows everywhere and pollutes the water supply, with 110 million liters flowing into the Mediterranean alone every day. Water insecurity has led to overdrawing in the Gaza Strip which has caused the collapse of the aquifer and the intrusion of seawater. Combined with the threat of disease, the region faces both a climate crisis and a humanitarian one. 
All of the technology is available to solve the water problem, but the construction of water treatment facilities has stalled for want of materials and a stymied political process. Meanwhile, raw sewage is coming out of Gaza and flowing toward Israel, bringing disease with it. 
The situation is a "ticking time bomb for two million people living in Gaza and also for people living in Israel and Egypt," said Bromberg. 
Bromberg believes Gaza must be stabilized through sanitation, but because of the "all or nothing paradigm," little progress has been made. 
"Water is being held hostage to the failure to move forward on other final status issues," he said. But "water is a low-hanging fruit that could improve the reality on the ground for every Palestinian and every Israeli without losers because water supplies can be replaced today."
Each actor has incentives to address the water problem: Jordan for reasons of development, Israel for security, and Palestine for water rights. Once they come to the table to address this crucial issue, Bromberg believes they can make progress on other issues as well. 
"Water has no borders; water issues cannot wait," he said. "Water issues are security issues."
---
The Coca-Cola World Fund at Yale at the MacMillan Center was established in 1992 to support intersecting endeavors among specialists in international relations, international law, and the management of international enterprises and organizations. Previous lecturers in the series have included Michael Doyle, Gary Hart, Tom Friedman, Nicholas Kristof, Luis Moreno-Ocampo, Sam Nunn, Sadako Ogata, Samantha Power, Mary Robinson, Raghuram Rajan, Eboo Patel, Mo Ibrahim, Marwan Muasher, Raila Odinga, John Githongo, Deborah Brautigam, Mahmood Mamdani, Sarah Chayes, and Sergio Jaramillo.
---
Written by Claire Zalla, Yale College Class of 2021.