Director's Letter to Our 2023 Graduates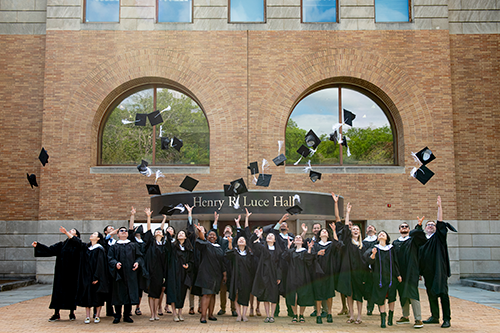 May 21, 2023
Dear MacMillan Graduates,
We are delighted to gather this weekend to celebrate your accomplishments here at Yale and to wish you all the best in your future endeavors. The faculty, staff, and your fellow students at the MacMillan Center join me in applauding you. We also recognize your families and loved ones—some of whom are here today—who have supported you every step of the way.
For decades, the MacMillan Center for International and Area Studies at Yale has been the University's home for international study committed to fostering a deeper understanding of the world and its people. We offer M.A. degrees in three of these regions: African Studies, East Asian Studies, and European and Russian Studies, in the hopes that our graduates will engage critically and make a positive impact in these parts of the world. As you join the ranks of MacMillan alumni, we look forward to the diverse work you will pursue in academia, politics, journalism, non-profit work, and many other fields. Above all, we hope that you will always remember the mission of the MacMillan Center and contribute to the creation of a more informed, inclusive, and flourishing world.
As you continue your journey, I hope you will stay in touch. I encourage you to stay connected to your fellow graduates and to the Yale MacMillan Center. Please keep us informed of your plans and progress, and do not hesitate to reach out if we can be of help to you.
With my sincerest congratulations,
Steven Wilkinson
 
Henry R. Luce Director, The Whitney & Betty MacMillan Center for International & Area Studies
Vice Provost for Global Strategy
Nilekani Professor of India & South Asian Studies
Professor of Political Science & International Affairs
Yale University