Program on Peace and Development created at the MacMillan Center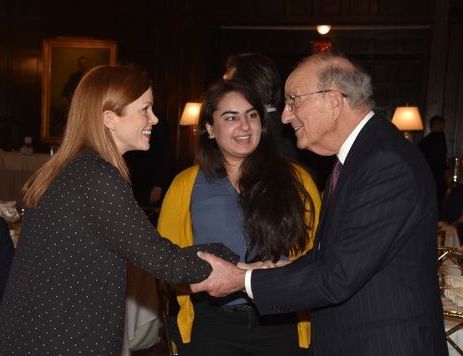 Last spring, the Program on Peace and Development, an interdisciplinary initiative aimed at bringing academics and practitioners together to discuss creative solutions to problems in civil conflict and post-conflict challenges, was created within the Whitney and Betty MacMillan Center for International and Area Studies at Yale. The Program is directed by Bonnie Weir, lecturer of political science, in collaboration with Hira Jafri, director of global programs for the MacMillan Center.
"I am delighted that this Program on Peace and Development is starting," said Steven I. Wilkinson, Henry R. Luce Director of the MacMillan Center, Nilekani Professor of India and South Asian Studies, and Professor of Political Science and International Affairs. "Dr. Bonnie Weir is a leading expert on the peacebuilding process in Northern Ireland, with many close collaborators and relationships within Northern Ireland and the Republic. With all the uncertainties that Brexit poses for the peace process, the work that Bonnie and Hira are doing through this program is all the more important, and will be of great interest to our faculty and students."
Much of the programming that the Program on Peace and Development had originally planned was delayed or modified as a result of the COVID crisis. However, the current focus of the Program—on post conflict challenges in Northern Ireland—remains unchanged. It is holding its first event this week on Thursday, November 12, and has partnered with the National Committee on American Foreign Policy to examine critical, grassroots reactions to Brexit and ongoing division in Northern Ireland. Registration for this event as well as the others in the series is available through this page.
Weir and Jafri noted the absence at Yale of a program focused specifically on peace building, despite the great number of scholars and projects at the university that relate to challenges to peace. "We believe that Yale should have a forum to explore and discuss possible responses to problems in conflict or post-conflict settings, involving both academic and applied perspectives," Weir explained, "and that engaging actors on the ground who should be, but aren't always, in conversation with each other, might provide potential opportunities for progress in situations that seem dire or intractable to most outside observers."
The Program on Peace and Development is currently engaging deeply with the case of Northern Ireland, where the effects of Brexit, major demographic changes, unresolved challenges that have lingered since before the peace Agreement in 1998, renewed calls for Irish reunification, and growing economic inequality all provide potential sources of renewed conflict. From late September through October 2020, the Program held a conference series for emerging political and civic leaders from Ireland, Northern Ireland, the UK, and the U.S., in conjunction with the Washington Ireland Program and the Centre for Democracy and Peacebuilding at Oxford University.
Research and funding opportunities for students and Yale faculty will be offered through the Program on Peace and Development. It also is creating an immersive summer study abroad course for Yale students in Northern Ireland. "There is a great opportunity to engage with the individuals on campus whose work focuses on peace, reconciliation, and community building and recognize their immense contributions," shared Jafri.  
Further programming will explore other case studies and areas of interest to Yale faculty and students. For more information about the program and to subscribe to its email list through its website: ppd.macmillan.yale.edu.